Miami — Rookie sensation Dontrelle Willis achieved two impressive feats Wednesday night. First he helped the Florida Marlins fill Pro Player Stadium, and then he beat Randy Johnson.
Willis had a little help from Arizona second baseman Junior Spivey, who made an errant throw that allowed two runs to score in the sixth inning. That was the difference as Willis and the surging Marlins beat Johnson and the slumping Diamondbacks 3-1.
The showdown of showcase left-handers drew a crowd of 37,735 -- much more than the Marlins projected, and their largest turnout since July 14, 2001. Nearly half the tickets were purchased Wednesday in anticipation of a pitching gem, and that's what the fans got.
"If you're not a fan of baseball watching that game, you're not going to be a fan," Willis said. "It was just fun to watch."
The crowd also saw the Marlins win their sixth game in a row and complete their first-ever series sweep of Arizona. The Diamondbacks have lost nine consecutive road games, a team record.
In a battle of the ages, the 21-year-old Willis (10-2) gave up four hits in seven innings. The only run scored by the D-Backs against the D-Train was a homer by the second batter he faced, Alex Cintron.
The 39-year-old Johnson, making his third start after missing 2 1/2 months following knee surgery, was almost as good. Johnson (1-4) allowed four hits in six innings but gave up two runs -- both unearned -- in the pivotal sixth.
Johnson lost to the Marlins for the first time in 10 career starts against them. Asked how he felt about his performance, he replied, "I'm pleased." When reporters paused before asking another question, he said, "All right, that's it," and left.
Phillies 4, Dodgers 2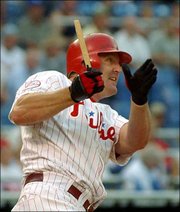 Philadelphia -- Ricky Ledee tripled off Paul Shuey (4-3) in the seventh inning to break a 2-2 tie, and Jim Thome drove in two runs. Turk Wendell (2-2) pitched 1 1/3 innings, and Jose Mesa recorded three outs for his 21st save.
Astros 7, Braves 3
Atlanta -- Adam Everett singled in two runs to cap a four-run first inning. After going 13-for-15 the previous three games, including nine straight hits coming in, Marcus Giles was hitless in four at-bats and walked.
Giants 6, Cubs 3
Chicago -- Edgardo Alfonzo hit his second career grand slam, and Jason Schmidt (11-4) and five relievers combined on a four-hitter. Kerry Wood (10-8), who allowed a season-high eight runs his previous time out, gave up four runs, three hits and four walks in six innings. He struck out nine.
Reds 3, Rockies 2
Cincinnati -- Jason LaRue led off the ninth with a tying homer off Justin Speier, and Adam Dunn singled with the bases loaded in the 10th against Jose Jimenez (0-6).
Two hours before the game, the Reds further dismembered their roster, trading leading hitter Jose Guillen to Oakland for three minor leaguers. They sent closer Scott Williamson to Boston Tuesday.
Cardinals 11, Expos 1
Montreal -- Rookie Dan Haren (2-2) allowed four hits in seven shutout innings and hit an RBI double that capped a seven-run first. Mike Matheny hit a three-run double in the inning. Claudio Vargas (6-7) retired just one batter and allowed seven runs, three hits and three walks.
Pirates 7, Padres 2
Pittsburgh -- Reggie Sanders homered twice and drove in five runs. Sanders hit a three-run homer in the fourth and a two-run homer in the sixth off Brian Lawrence (5-13), who has lost four straight decisions and six of seven. Sanders added a two-run homer in the sixth.
Mets 2, Brewers 0
New York -- Al Leiter (10-5) allowed five hits in seven innings as New York stopped a four-game losing streak, and David Weathers recorded six straight outs for his second save.
Copyright 2018 The Associated Press. All rights reserved. This material may not be published, broadcast, rewritten or redistributed. We strive to uphold our values for every story published.