Kansas City, Mo — After nearly 21 months on the job, Mark Mangino feels pretty good about his position at Kansas University.
He has experienced a full season as a head football coach, brought in more than two dozen recruits, seen the results of his players getting stronger in a new strength and conditioning facility and softened his team's nonconference schedule.
All those factors should help a rebuilding program, but none of them explained Mangino's mood Wednesday at Big 12 Conference Media Day.
"I've never been more comfortable at KU," the second-year coach said. "Neither has our football staff."
Mangino wasn't lounging in a recliner. He was comfortable because after months of frustration, he has an athletic director who Mangino thinks can help him turn around the Jayhawks' football fortunes.
"It was difficult for several months to get things done from an administrative standpoint for the football program," Mangino said. "That's all changed now that Lew Perkins arrived."
Perkins, the former Connecticut athletic director, was hired June 10 -- a little more than two months after former Kansas AD Al Bohl was fired.
When an new athletic director comes on board, it often signals the beginning of a shakeup in the athletic department's administration or coaching staff, but Mangino was thrilled with the Perkins' hiring.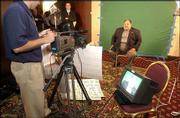 Mangino, who was hired by Bohl Dec. 4, 2001, won't publicly criticize the man who gave him his first head-coaching job, but it's obvious the two had their differences.
"I spent a lot of my time dealing with issues internally that one phone call or one ambitious person could have taken care of, but that wasn't always the case," he said. "If I need something done with a facility or something fixed, I don't have to call three or four people anymore. I only have to call the athletic director."
And in the few weeks Perkins has been on the job, Mangino has called a lot.
"All you have to do is call the AD about an issue, and he takes care of it," Mangino said. "I'll give you an example. We had about five potholes in the driveway that leads from the locker room to the practice field. On more than one occasion, I've mentioned that it's dangerous, and we should do something about it. Lew Perkins comes in, and I tell him about it, and the potholes are filled the next day. It's a little thing, but little things add up."
So do big ones. In Perkins, Mangino found an ally in his quest to have a multi-million-dollar football complex built at Memorial Stadium.
"It's an investment in winning," said Mangino, whose pet project would be paid for by private donations. "It costs money to win. I've said that since I came to KU."
Perkins will help raise those funds. That's the kind of leadership Mangino thinks is essential to building a winner.
Mangino helped build Bill Snyder's national powerhouse at Kansas State and helped former Snyder aide Bob Stoops rebuild the program at Oklahoma.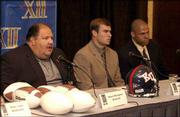 Two years after experiencing a national championship at OU, Mangino last year endured a 2-10 season in his first year as a head coach.
"It was an educational experience," he said. "There were periods of frustration. I had to develop patience. When you're used to winning, its no fun losing."
Without the support and vision of influential administrators -- like Kansas State president Jon Wefald and Oklahoma AD Joe Castiglione -- Snyder and Stoops would have had a much harder road, Mangino said.
"That's something when I arrived at Kansas was not in place," he said. "The vision for football, the plan for football came from me. Now with the arrival of Lew Perkins, he understands what it takes to win in football.
"We think a lot alike on many issues. We don't agree on everything, but what we do agree on are the major points of getting a football program in the Big 12 up and running. I'm excited. I'm pleased to have him on board."
Copyright 2018 The Lawrence Journal-World. All rights reserved. This material may not be published, broadcast, rewritten or redistributed. We strive to uphold our values for every story published.