Kansas City, Mo — Bill Whittemore has been tackled, blocked, leveled, sacked, pummeled, flipped and bounced during his days as a football player.
All that rough stuff was easy, though, compared to Big 12 Conference Media Day.
"I'd much rather play a game, that's for sure," said Whittemore after the Kansas University senior quarterback had been queried, questioned and grilled by media types Wednesday at the Downtown Marriott.
Incumbent quarterbacks are in heavy demand during these preseason blitzes, and hundreds of media were on hand Wednesday -- and will be again today -- trying to elicit memorable words for use on the air, in print or on the tube.
"It's a lot more taxing on the brain than a game," Whittemore said, "because you have to think about every word out of your mouth."
Whittemore, voted the Big 12's Offensive Newcomer of the Year in 2002 despite playing in just nine games, made just one slip, and it was fairly innocuous at that.
While sitting on a dais with coach Mark Mangino and defensive tackle Travis Watkins in front of a throng of print media, Whittemore was asked what he thought of the Jayhawks' backup quarterbacks.
"We have good backup quarterbacks," Whittemore replied. Then he paused, glancing at Mangino. "Uh, not backup quarterbacks."
"Your competitors," Mangino suggested.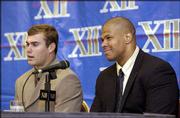 "Yeah," Whittemore said, brightening. "My competitors."
Following that session of 20 minutes or so, Whittemore and Watkins were shuttled to an adjoining room where they faced a throng of radio and television reporters. So many TV crews showed up that Big 12 officials had to set up three sites with conference-logo banners draped behind.
Momentarily, Whittemore sat at the first table, microphones in his face and cameras facing him. One of the inquisitors asked how he thought the Jayhawks would do this season.
"We're expecting to go to a bowl game and upset some teams this year," he replied. "Our goals are high."
After a few more questions about the offensive line and the knee injury that prevented him from playing in the last three games, Whittemore was excused to go to the next TV area. But first he was grilled by a Kansas City radio personality who asked several questions, including one about the Jayhawks' 15 new junior-college transfers.
"We're excited about our junior-college group," Whittemore told him. "They want to win, and they expect to win."
Moments later, Al Wallace of Kansas City's Fox 4 stuck a mike in front of Whittemore and asked him about the offensive line and the juco transfers.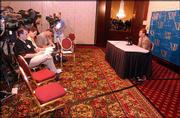 Then, Judd Easterday of KLWN radio buttonholed Whittemore.
Finally, Whittemore reached the second bank of TV cameras, where he was asked about his knee ("I'm 100 percent"), the wide receiver position ("I think it will be strong for us") and KU's new athletic director ("I haven't even met Lew Perkins").
Excused again, Whittemore gratefully accepted a glass of water from Mitch Germann, KU's sports information director, as he waited for Texas coach Mack Brown to conclude his TV stint.
At this site, Whittemore was asked if it is important for the Jayhawks to get off to a good start (he says it is) and how he felt about the upcoming season ("We're excited about it.").
When he finished this TV stint, Whittemore waited to go into the next room for one-on-one sessions with TBS, Fox Sports Net and ESPN. While resting, Whittemore was interviewed by Baylor U. broadcaster John Morris, who asked him about the Oct. 18 meeting with the Bears.
"We're excited about every game," Whittemore replied.
Morris leaves, then Whittemore does another interview with a Kansas City radio station.
At this stage, Whittemore stood for a few moments contemplating his first experience with pack journalism.
"I had no idea," he said. "I don't understand how there can be this much media. But it's neat."
A whole lot neater for sure than his first preseason media experience when he was a freshman at Tennessee-Martin.
"I remember our Media Day," he said with a smile. "It consisted of the local paper and a TV station."
In a couple of minutes, the door to the next room is opened, and Whittemore and Watkins take turns answering a couple of questions for the three major networks, then they do a couple of promos. For Fox Sports Net, Whittemore doffed his jacket, shirt, tie and T-shirt in order to don his KU jersey and go into a cheesy-looking passing stance.
When the posing was over, Whittemore was ushered out of the room, wearing only T-shirt and slacks, and ran into more print media-types waiting for him.
Mark Janssen of the Manhattan Mercury asked him for his opinion of what makes Kansas State such a good team.
"They have great players," Whittemore replied. "They've got talent, and they've got speed."
At last, after nearly two hours in a fishbowl, Whittemore was done. No more cameras, no more tape recorders, no more engaging his brain before every utterance. All in all, Whittemore had no complaints.
"The only question that perturbed me," Whittemore said, "was the one about what made me think we'd be capable of competing in the Big 12. I didn't want to answer that one, really. I mean, everybody thinks they're capable of competing."
Copyright 2018 The Lawrence Journal-World. All rights reserved. This material may not be published, broadcast, rewritten or redistributed. We strive to uphold our values for every story published.