Garrin Kimmell nearly left his recliner by the Dumpster this week as he moved out of his Old West Lawrence apartment.
But he didn't have the heart.
"You can't just get rid of a La-Z-Boy without something to take its place, can you?" he asked.
Perhaps not, but Kimmell left behind other trash that could become someone else's treasure -- a bed frame, swimming "noodles," a CD carrier.
Kimmell isn't the only one leaving belongings behind.
The last weeks of July, when leases end on thousands of Lawrence apartments, open Dumpster-diving season in the city.
The season delights people like Glenn and Kim Rice. This year they scored an end table, computer monitor and shelves from the Dumpsters at their apartment complex at Ninth Street and Avalon Road.
"That's just the tip of the iceberg," said Glenn Rice, a doctoral student at Kansas University. "I always get good stuff this time of year."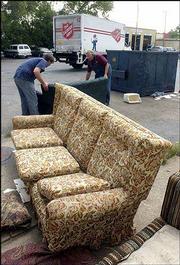 Though Dumpster diving has landed Rice appliances, dishes and silverware in past years, he said he still couldn't understand why students would throw away perfectly good items.
"I think it's irresponsible," he said. "They could take it to a Goodwill Store or give it to people who need it."
City officials and some KU students agree.
A group involved with Student Senate will drive a truck to five apartment complexes today to salvage used furniture and other items, which will be sold Friday at Theta Chi fraternity, 1003 Emery Road.
"We want to reduce the amount of stuff getting thrown out," said Nick Sterner, Student Senate community affairs director. "We want to reduce the pressure on the city. And if students get a couch for $15, they come out ahead."
Bob Yoos, the city's solid waste division manager, said trash trucks would be full this week and next. In a typical week, Lawrence residents generate about 200 tons of trash; this week will be closer to 300 tons, he said.
Yoos said crews were on call to pick up piles of trash in addition to completing their normal routes.
He urged residents to have yard sales or donate items to thrift stores instead of throwing it all away.
Is it legal?
City officials say they're not likely to crack down on scavengers, though it is against the law.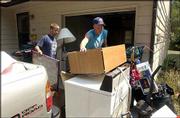 A city ordinance says it's illegal to "remove any portion of the contents of any refuse container, or remove any material placed out by residents or occupants of any premise for collection by operators of recycling services." In other words, you're not supposed to Dumpster dive.
But don't expect a citation if you do, said Sgt. Mike Pattrick, a spokesman for the Lawrence Police Department.
"Are we out there looking for that?" he said. "No."
He said the law was mostly concerned with people opening trash bags to look for personal information and in turn spread trash across neighborhoods.
The safest option for claiming larger items left by curbs is to ask the items' owners for permission to take them, Pattrick said. That will protect you from having a stolen property report filed against you -- in case the owners don't intend for the items to be taken.
Others busy
Lawrence trash haulers aren't the only ones busier than usual this week.
At U-Haul Co., 540 Kasold Drive, customer service representative Shay Sexton said the company's trucks and trailers have been "booked solid" for more than a month.
"We're bringing in as many trucks as we can from the whole state," he said. "Right now, we're renting out 60 trucks a day."
The city of Lawrence offers these tips on trash for people who are moving:¢ Put refuse at curb in containers; avoid loose materials.¢ Dumpster diving is dangerous and illegal. City ordinance says it is unlawful to take contents of any refuse container or material put out by residents for collection.¢ Call the city's Solid Waste Division at 832-3032 for curbside collection of larger items such as appliances and furniture.¢ Use of Wal-Mart Recycling Center for accepted materials is encouraged.¢ Break down large cardboard boxes or cartons so they will fit into the collection vehicle.
He said many people planned ahead to have a moving truck.
"The worst part is people wait until today or this week to reserve, and we can't help them," he said. "It stinks."
At the Salvation Army Thrift Store, 1818 Mass., workers have been taking in many more clothes and other items than usual, manager Billy Collette said.
And he said after-hours donors have caused some problems at the store. They drop off their clothes outdoors, and then vandals come later and spread the clothes throughout the parking lot.
"I don't know if people are aware if people know this stuff goes to a good cause," Collette said. "It's a big waste."
He said the Salvation Army had plenty of room for donations this week.
"We almost accept everything here -- anything that works and can be re-used by somebody," he said. "When students are moving, we get stuff left and right. It helps us out quite a bit."
Copyright 2017 The Lawrence Journal-World. All rights reserved. This material may not be published, broadcast, rewritten or redistributed. We strive to uphold our values for every story published.