RIVER FALLS, WIS. — Priest Holmes and his surgically repaired hip seemed to hold up despite a fierce out-of-bounds hit by a Minnesota linebacker Wednesday.
Holmes and the Kansas City Chiefs went through a brisk morning practice against the Vikings Wednesday morning, then went through another session in the later afternoon, where Holmes again took part.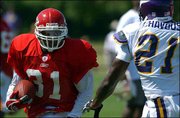 "I would say it is 100 percent," Holmes said. "Actually, I'm a little bit better."
Holmes, the NFL's offensive player of the year last season, seemed to shake off the big morning hit. He then went to the sideline and did not return to the morning workout.
"It was just the planned rotation," he said.
Chiefs coach Dick Vermeil said after the evening practice that he was getting impatient with those who kept wanting to protect Holmes and limit his activity.
"We've got to use him a little bit more. He can't crack a sweat doing what we're doing," Vermeil said. "We've got too many head coaches."
Vermeil said Holmes was "right on schedule."
Copyright 2018 The Associated Press. All rights reserved. This material may not be published, broadcast, rewritten or redistributed. We strive to uphold our values for every story published.