Puebla, Mexico — Volkswagen is saying goodbye to its icon, the Beetle, ending production and sparking an international battle among collectors who want a final reminder of the car that was popular with everyone from post-World War II suburbanites to hippies.
The world's last new Volkswagen bug rolled off the assembly line Wednesday at the VW plant in Puebla, 65 miles southeast of Mexico City. The German car manufacturer planned to say goodbye to its homegrown legend by beaming footage of the car all over the world, then sending it to a museum in Wolfsburg, Germany.
Volkswagen produced 3,000 "last edition" bugs to be sold at Mexican dealerships for $8,000 -- a few hundred dollars more than the normal price. The design stays faithful to the original model with a few minor changes, including chrome trim, whitewall tires and a CD player.
Experts said prices likely would rise as the car was resold in and outside Mexico.
"The prices are going to be higher because this is a a car that is considered a classic, a limited edition," said Marcos Bureau, editor of Vochomania, a Mexico City magazine for bug lovers.
In Germany, the last edition bug is selling for $14,900 each, while car companies in Great Britain have them on sale for $16,000. Volkswagen of Brazil plans to import 50 last edition bugs and sell them for $13,000.
"This is the end of a very long story, and a lot of Beetle people here are going to be very sad," said Ivan McCutcheon, editor of VolksWorld, a monthly magazine for Volkswagen lovers in London.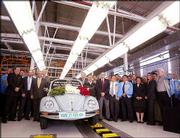 Copyright 2018 The Associated Press. All rights reserved. This material may not be published, broadcast, rewritten or redistributed. We strive to uphold our values for every story published.