A Bed Bath & Beyond store will be opening in the former Kmart building on South Iowa Street by November, but Dick's Sporting Goods is off the shopping list for the vacant space.
Jodi Belpedio, an agent with Rubenstein Real Estate Co., said Wednesday that Bed Bath & Beyond had signed a lease to open a 25,000-square-foot store in the building at 31st and Iowa streets.
New Jersey-based Bed Bath & Beyond is one of the nation's largest retailers of linens and other home-furnishing items. It also sells kitchen ware, dining ware, home decor, storage and cleaning items, and small appliances like vacuums, can openers and irons.
"They should be a great draw to the center," Belpedio said. "They're a specialty retailer that is destination driven. They're the type of store people will go out of their way to go to."
Bed Bath & Beyond is one of four large retailers that will locate in the building, which became vacant in April when bankrupt Kmart closed the store.
Though she declined to identify the stores, Belpedio said lease negotiations were nearly complete with three other retailers. She said they were a hobby and craft store, a fashion retailer and a furniture store.
Previously, Dick's Sporting Goods was thought to be close to signing a lease for a portion of the store, but Belpedio said a sporting goods retailer was no longer in the center's future. Speculation on other tenants included bookstore chain Barnes & Noble, electronics retailer Circuit City and office supply store Office Max.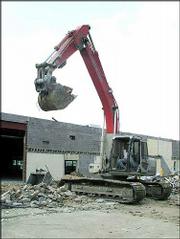 Previously, the real estate company planned to redevelop the property with three larger stores and about six smaller stores. Belpedio said the company decided to scrap the six smaller stores and add a larger store because of the level of interest large retailers showed in the site.
"The demand is there," she said. "I'm sure we could have done another 50,000 square feet of space if we had it to offer.
"Lawrence is just the right size of town. The income levels are good, and it is just a good market for retailers. National retailers now see it as an expansion of the Kansas City market. Lawrence is just the next step for a lot of those retailers that are in Kansas City now."
Construction work to add a new facade and subdivide the space has begun. Belpedio said she expected all the stores to be open by March. That is a quicker timeline than her company had expected.
"The city has been phenomenal to work with," Belpedio said. "Everybody talks about how difficult the city is, but we have had the most pleasant experience thus far.
"I think it will be a boost for the city. There will be four profitable stores out there and that is the key. They should do a tremendous amount more in revenue than Kmart did."
Kansas City, Mo.,-based Rubenstein purchased the center southeast of 31st and Iowa streets, which is known as Pine Ridge Plaza, last July from Malan Realty Investors Inc. for $13.85 million. The area already is home to Kohl's, Famous Footwear, Old Navy and several smaller shops.
Copyright 2018 The Lawrence Journal-World. All rights reserved. This material may not be published, broadcast, rewritten or redistributed. We strive to uphold our values for every story published.