White corn is something no farmer wants to see.
We're not talking tender white kernels fresh from the pot and lathered in butter.
It's row upon row of corn so badly desiccated that from a distance the field looks white. Not green, not even yellow, but pale, ghostly white.
Bob Elder, a 74-year-old Lawrence resident who has farmed near Linwood all his life, has never seen it so bad.
"They're burning up," Elder said of his 55 acres planted to corn. "It's never turned white before to this extent. It's new to me, anyway."
The scene is similar in Douglas County, extension agent Bill Wood said.
"Our corn crop is looking worse day by day," he said.
Elder said that as late as several weeks ago, the area corn crop was a beauty. But, he added, it's never wise to count your yields before harvest.
"My dad used to say years ago that it looks so good it scares me," Elder said, recalling his father's words when young crops had a strong start. "It looks like it's catching up with us."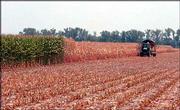 Rick Abel, Leavenworth County executive director of Farm Service Agency, said the problem was worse for crops in sandy soil. That includes some fields planted in prime farmland like the Kaw River valley.
"It's just a pretty widespread drought for our part of the state," Abel said. "We're going to have a lot of cornfields that will be a total loss."
The recent heat wave, with temperatures hovering in the high 90s and low 100s, has wreaked havoc on the crop's potential. Wood said this year's harvest could be worse than last year's, which produced yields about 30 percent smaller than the county's historical average of from 100 bushels to 110 bushels per acre.
And last year's drought is compounding the problem, Abel said.
"I doubt that we're in as good of shape as we were this time last year, which is sad to say, because last year was not a good year," Abel said. "We don't have any subsoil moisture after last year."
"This year we could have some areas that just don't raise anything," Abel said. "For farmers it's another big input dollar year where your return is nothing."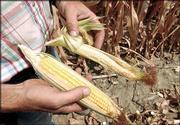 Wood said some Douglas County farmers had given up on harvesting the crop for grain. Some farmers this week began chopping the dry corn crops to use as silage, or fodder for livestock.
And while the dry, hot weather has not yet killed the potential of the area soybean crop, Wood said the next month would be critical.
"If it is still dry by Sept. 1, it will be too late for the beans," Wood said.
Corn and soybeans are by far the two largest crops planted in Douglas County, with about 45,000 acres of soybeans and 25,000 acres of corn.
Wood said the corn harvest in the county could begin about Aug. 15.
---
Journal-World Business Editor Chad Lawhorn contributed to this report. He can be reached at 832-6362.
Copyright 2018 The Lawrence Journal-World. All rights reserved. This material may not be published, broadcast, rewritten or redistributed. We strive to uphold our values for every story published.