Simple.
Because he's led the Winston Cup standings since March 9 and because he's threatening to turn this year's championship chase into a rout, a lot of people are trying to come up with the right word to describe Matt Kenseth.
Conservative? Reserved? Even boring? Of all the terms that have been used -- or implied -- "simple" is perhaps the one that best fits the 31-year-old native of Cambridge, Wis. It certainly fits Kenseth's approach to being the man everyone is chasing 20 races into the 2003 season.
"You never know if everything is going to go right and it's going to happen," said Kenseth, who takes a 232-point lead into Sunday's Brickyard 400 at Indianapolis Motor Speedway. "So many things can go wrong easier than they go right, so I don't really get ahead of myself or get too excited about it."
If Kenseth keeps doing what he's done so far this year, he can count on having volumes more written about him and his story.
He started racing at a teenager with his dad, Roy, working his way up through the Wisconsin short-track ranks to the American Speed Association and, eventually, to NASCAR. His performance in the Busch Series caught the eye of Mark Martin, who encouraged his car owner, Jack Roush, to find a place for Kenseth.
Roush did, and Kenseth got his first Winston Cup win as a rookie in 2000 in the Coca-Cola 600 at Lowe's Motor Speedway before winning a series high five races last year.
Kenseth also seems unconcerned about creating an image for himself.
Ask him, for instance, to describe his emotions about racing at the historic Indianapolis track, and he'll tell you the first thing he thought about when he went around the 2.5-mile giant is how narrow it seemed.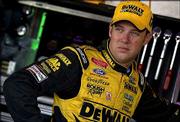 "I don't know how to say this exactly right, but I probably don't quite have the respect for Indy as maybe some other drivers do," Kenseth said. "I've never been an open-wheel fan. I have a lot of respect for what the place has done and all the history to it, but I probably don't appreciate it quite as much because I'd never been here before. I never watched a race in person and I never even watched the Indy 500 on TV."
Kenseth intends no slight to Indy, which hosts Winston Cup cars for the 10th time this weekend. He just keeps his approach to things simple.
"All of the races are really kind of the same to me," he said. "Yeah, there are some races that would be neater to win than others, I guess, but they all pay the same points. I race the same all the time. I don't really know how to race any different."
But something is different this year, Kenseth said.
"We haven't broken any parts or pieces yet and we haven't been in the big accidents," he said. "We've been a little luckier or maybe have done a little better job preparing."
There's something more, though. Kenseth said his team, led by crew chief Robbie Reiser, simply seems more prepared to do what it's doing in contending for a title.
"Last year, even though we won five races, I never really felt all year like we had all the tools to be able to have a serious, legitimate shot at the championship," Kenseth said.
"I learned a lot from last year -- from the good and bad -- and I thought that would make us a little more consistent. I just think we know a little bit more of how to react to certain situations ... and maybe be a little bit smarter in picking our equipment or using the right stuff that's going to be competitive and make it to the end of the race."
Kenseth's consistent strength has produced the big points lead, and because of that, business is picking up. He said he had already done more interviews in the past month than he did all last year, but he's not freaking out.
"When you're busy and people want you to do stuff, I guess that's a good thing because it means we're running decent," he said.
Statistically speaking, Kenseth's year has been more than "decent."
Kenseth's lone victory in the No. 17 Ford came at Las Vegas in the season's third week, but he's had eight top fives and 15 top-10 finishes while failing to complete a total of just two laps in the 20 races held so far. If he keeps that up, the race for this year's title is over. Keeping it up, though, is the trick.
"I definitely don't think everything is going to go right for the rest of the year," he said. "I just want to take one race at a time, stay competitive and see where it ends up."
How simple is that?
Copyright 2018 The Lawrence Journal-World. All rights reserved. This material may not be published, broadcast, rewritten or redistributed. We strive to uphold our values for every story published.