RIVER FALLS, WIS. — Next time the camera closes in on a field goal, pay close attention to the holder.
Did he take the snap and hurriedly spin the ball to point the laces away from the oncoming kicker?
If he did, then rest assured that kicker probably would love to trade his deep snapper for the extraordinary Kendall Gammon of Kansas City .
Spinning the laces away from the kicker as the holder sets the ball in place costs the field-goal unit a precious fraction of a second.
It can cause the entire play to break down. But it's a problem Chiefs kicker Morten Andersen almost never has because Gammon almost always delivers the ball to the holder with the laces already pointing exactly the right way.
"Kendall is the best in the history of the league," said Andersen, who enters his 22nd year as the NFL's second-leading scorer.
"I haven't seen anybody at his craft who even comes close. He's unbelievable at what he does."
After 11 years in the league and thousands of hours practicing into a net, Gammon has become virtually automatic. He's learned the exact dimensions of everything involved in one of football's most underappreciated skills.
Distance to the holder? Eight yards. Revolutions of the ball while getting there? Three and a half. Preferred time between the snap and the kick? One and three-tenths of a second.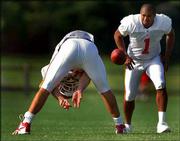 "I've never seen anyone do it any better," said Chiefs boss Dick Vermeil, who 34 years ago was the NFL's first designated special teams coach. "Kendall Gammon is special."
Ironically, Vermeil worries that Gammon is so consistent, it might cause a problem someday.
"You can get spoiled," he said. "You can lose your concentration with a long snapper like him. You just expect it to be right there every single time. The (holder) goes, 'Oh, my God, I have to move it a little."'
It's a risk Andersen is happy to take. Before deciding to continue his career in Kansas City, Andersen called Gammon to make sure he, too, was going to stay with the Chiefs.
Why not stick with the deep snapper who always gets the holder the ball with the laces already pointed right?
"It's huge for me, and it's huge for the holder -- just catch the ball and put it down," Andersen said. "It buys us an extra tenth of a second, and that's vitally important. It can make the difference between a game-winner or getting it blocked."
Modest and easygoing, Gammon is equally skilled at snapping for punters.
"Only in America can you snap a ball between your legs and get paid for it," he deadpanned. "It's a beautiful country."
When he came into the league from Division II power Pittsburg State, there were only a handful of deep-snap specialists. But almost every team has one now.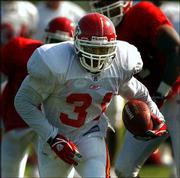 "I respect what I do," Gammon said. "That's why I try to be the best, and maybe have gotten some compliments.
"A bad snap ... it's the laces an eighth (of a revolution) off, or a quarter off. That really bugs me. I'm always striving to be perfect."
He'd never even thought about delivering the ball with the laces pointing away from the kicker until he started snapping in Pittsburgh early in his career for Gary Anderson, another all-time great.
"He said, 'It would really be nice if you could get it to where the laces are there and there,"' Gammon said. "So I went off and practiced 'til I got it right."
A part-time offensive lineman like most other deep-snapper specialists, the 6-foot-4, 255-pound Gammon owns a style that's practically all his own.
"My mechanics are a little different," he said. "In terms of how I hold the ball, it tilts up a little bit. Other guys don't use their lower body as much as I do, maybe. It doesn't make it right or wrong, good or bad. it's just different.
"There's only so much you can say about deep snapping. It's what I do, and I love it. But it's not going to make 'Scientific American' any time soon."
Copyright 2018 The Associated Press. All rights reserved. This material may not be published, broadcast, rewritten or redistributed. We strive to uphold our values for every story published.