Cromwell, Conn. — Suzy Whaley was so excited about her outing at the Greater Hartford Open that she called her 8-year-old daughter from the course to say: "Mommy played great."
"She said, 'That's super, but I was at the bowling alley and I got two strikes in the last frame and a spare,"' Whaley said. "I said, 'Well, that's terrific."'
There might come a time when news of a woman playing on the PGA Tour is as ho-hum as it was to Jennifer Whaley. But it was obvious from the galleries and even the reactions of Whaley's playing partners that it's news these days -- and good news, at that.
"I'm impressed with her game, but I'm more impressed with her attitude and her personality," said Peter Jacobsen, who was at the top of the leaderboard.
"She is a great representative of golf -- not women's golf, not the club pros of America, but just golf."
The first woman to qualify for a PGA Tour event since Babe Zaharias in 1945, Whaley shot 75 and 78 for a score of 13 over to miss the cut.
Jacobsen and Jay Haas led at 10 under through 36 holes.
Haas said Whaley's opening round -- which started with a double-bogey -- would be like him going into an NBA game and scoring six points. And her attitude was refreshing on the men's tour.
"The first hole, walking off the green, she looked like she just won Miss America, and she just made 6," he said. "I think that's wonderful. I don't think you have ever seen a male professional golfer have a big grin on his face after making a 6 on the very first hole of the tournament."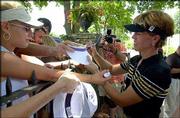 Whaley was back at the course on Saturday, following Jacobsen and drawing huge crowds that called out to congratulate her on her performance. She remained gracious and responded with the same huge smile she wore around the course for two days.
She qualified for the tournament by winning the Connecticut PGA sectional in September. After that, things snowballed.
When top LPGA Tour player Annika Sorenstam was asked about Whaley last fall, she said she would be interested in playing in a PGA Tour event if she received a sponsor's exemption.
Sure enough, the Colonial came through with an invitation. Sorenstam played there in May, shooting 71-74 and missing the cut.
"It was very, very tough what she did," Sorenstam said Saturday from the LPGA Tour's Evian Masters in France. "She should be proud of herself."
Jacobsen's production company handled Whaley's publicity the past seven months, and he played a practice round with her Tuesday at Hartford. He hopes other women will play in men's tournaments and noted that LPGA Tour pioneer Jan Stephenson, 51, is considering playing in a Champions Tour event in October.
"I think she should," he said. "I think it's great."
Michelle Wie, who's 13, accepted an invitation to play on the men's developmental Nationwide Tour.
Whaley said her goal was to help grow the game of golf, and she thinks that's exactly what she accomplished. She had the biggest galleries during the first two rounds and a group of reporters that needed special armbands to approach her.
Through it all, she never lost her smile.
"There were so many young people out there cheering for me," she said. "I would ask them, 'Do you play golf?"'
And they would say, "No, but I'm going to now."
With the tournament over for her, Whaley autographed balls Saturday instead of hitting them.
A line of fans snaked out of a merchandise tent for Whaley's hour signing session.
Eliza Maciag, an 8-year-old from West Hartford no taller than a 3-wood, leaned across the table as Whaley autographed a large plastic golf ball.
"Play golf?" Whaley said as she handed the ball back.
"I have clubs," Eliza said. "It's a great sport."
Copyright 2018 The Associated Press. All rights reserved. This material may not be published, broadcast, rewritten or redistributed. We strive to uphold our values for every story published.