Vancouver, British Columbia — Paul Tracy answered his critics the best way he could, winning the pole Saturday for the Vancouver Molson Indy.
The Champ Car points leader lost the provisional pole -- and the championship point that goes with it -- to Bruno Junqueira Friday when CART penalized Tracy for blocking other drivers late in the qualifying session.
"It's very satisfying," an unsmiling Tracy said after Saturday's qualifying session for today' race. "Yesterday, I felt we were wrongly stripped of our position and point. They were given to the wrong person. He didn't earn it."
The series "bad boy" -- often at odds with CART and other drivers for his aggressive tactics on the track and outspoken comments off it -- took no chances Saturday.
Tracy answered after watching 2001 Vancouver winner Roberto Moreno post a fast lap of 1 minute, 1.172 seconds, 104.813 mph to take over the top spot with 26 minutes remaining in the 40-minute session.
Instead of waiting for the traffic-jammed late laps, as the leaders usually do, Tracy took no chances that anyone would accuse him of blocking on the tight 1.78-mile street circuit this time.
Tracy drove his Ford-Cosworth-powered Lola onto the nearly empty track with nearly 18 minutes remaining and quickly got up to speed.
He retook the top spot with just under 15 minutes remaining, turning a lap of 1:01.049, 105.024, then bettered it the next trip around with a 1:00.926, 105.236.
"I wanted to make sure there was no reason for anybody to complain about anything," he said. "I wanted to get it out of the way and do my talking on the track."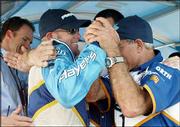 Junqueira came the closest to catching Tracy with a last-second lap of 1:01.070, 104.988, but Tracy wound up heading into today's 100-lap race with his fourth pole of the season and the 17th of his Champ Car career.
Junqueira sat next to Tracy at the post-qualifying news conference.
"What happened yesterday was a very strange thing," he said. "I did not want to get the pole that way."
The result got Tracy back the point he gave up Friday and put the Canadian 15 points ahead of Junqueira in the standings -- exactly where he was when the race weekend began.
Both drivers said there will be no reprisals today.
Moreno's fast lap gave him third place on the 19-car grid, with Michel Jourdain fourth at 1:01.582, 104.115, followed by rookie Sebastien Bourdais at 1:01.617 104.056.
Patrick Carpentier, Tracy's Player's/Forsythe Racing teammate, lost his fast lap when he crashed with less than nine minutes remaining, bringing out the only red flag of the session. His second fast lap was good enough to place him sixth.
The top seven drivers Saturday were quicker than Junqueira's provisional pole time of 1:01.845.
¢
Scheckter takes IRL pole: Tomas Scheckter earned his second straight pole in the Firestone Indy 400 at Brooklyn, Mich., putting himself in good position to win the IRL race for the second time.
Scheckter turned a fast lap of 222.458 mph for his second pole of the season and fifth of his career.
A repeat victory at MIS today would make Scheckter the third driver in track history to win two straight Indy-style races along with Mario Andretti and Bobby Unser.
Scott Dixon's streak of three straight pole starts was snapped by his teammate. He'll start second in the 21-car field.
Two-time Indianapolis 500 champion Helio Castroneves will start from the second row with Sam Hornish Jr.
Points leader Tony Kanaan will start 15th.
¢
Wimmer wins Busch 250: Scott Wimmer won the NASCAR Busch 250 at Pikes Peak International Raceway in Fountain, Colo., in a race that saw a track-record 15 lead changes.
Wimmer led for 70 laps and took the lead for good on the 227th lap by overtaking Jason Keller, who finished 1.045 seconds behind. Wimmer collected $91,920 for his first win of the season. He has won five times in the series.
A track temperature of 139 degrees at the start of the race made for a slick road surface, allowing for the lead changes. Ron Hornaday Jr., who finished seventh, led the most laps with 80.
¢
Gaughan sets record: Brendan Gaughan ran the fastest race in NASCAR Craftsman Truck series history and continued his domination of the circuit by winning at Michigan International Speedway in Brooklyn, Mich.
Gaughan averaged 154.044 mph in the Sears 200, his second consecutive victory and fourth in the last seven races.
The victory moved Gaughan to the top of the series standings halfway through the season. Gaughan and Travis Kvapil have 2,000 points each, but Gaughan is leader on the strength of his four wins.
Copyright 2018 The Associated Press. All rights reserved. This material may not be published, broadcast, rewritten or redistributed. We strive to uphold our values for every story published.