New York — It's a question that burns on the minds of even those women who have a passion for fashion: Who really wears the outlandish styles that fly down the runways during couture shows?
Surely anyone who cares about her appearance isn't expected to wear see-through tops (with no bras!), hats with fanning feathers that look like peacock tails or black lipstick, right?
Yes and no, says Phillip Bloch, a celebrity stylist just back from seeing the haute couture collections in Paris. "Things are supposed to start at couture and melt down into ready-to-wear trends and things that make it into the stores," he explains.
Not everything catches on, though, because -- face it -- feathers are not practical for the average soccer mom. Or, in Gloria Limanni's case, the average baseball mom.
Limanni, who lives in the Atlanta suburb of Lawrenceville, Ga., spends most of the summer shuttling her 12-year-old son to his baseball games. This is the follow-up to her springtime activity: Sewing the costumes for the high school's production of "The Music Man," in which her 14-year-old daughter was one of the stars.
But Limanni, one of Bloch's best friends since childhood (they grew up neighbors in Seaford, N.Y.), took a weeklong break from her normal routine to accompany Bloch to Paris and experience the fashionable life firsthand.
"It was amazing and beautiful. I saved the seating card from Valentino. It had my own name on it!" Limanni gushes in a phone interview the day following her return.
But Limanni's reviews of the clothes were mixed.
There were tailored daysuits inspired by the 1930s and '40s at Givenchy and Valentino that Limanni could see herself in, but the metallic wedding dress by Elie Saab that was modeled by Naomi Campbell was a little over the top.
"Backstage, some sophisticated woman was asking about that wedding dress. For me, for my life, it's not realistic. It was stunning, but I certainly would have felt out of place in it," says Limanni, whose own wedding dress was a 3/4-length vintage pink slip dress with a sepia lace overlay.
Jean-Paul Gaultier offered bodysuits in many colors and textures, including a sheer bodystocking with an embroidered vein pattern.
"Jean-Paul Gaultier was all about performance art ... and performance art doesn't translate back to what I could wear," Limanni says.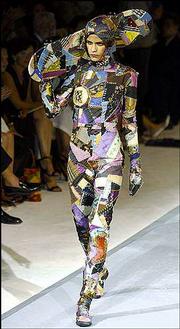 Sometimes, she says, the designers showed fairly classy, classic and wearable clothes against a wild backdrop and using even wilder hair, makeup and accessories.
"There was a mix of things I could see beyond the 'costume' and get down to the style, but sometimes it was more about the attitude. ... And sometimes I couldn't see beyond the makeup and the hair. I couldn't see beyond the gimmick of some of it," she says.
Bloch, who regularly attends couture shows to search for red-carpet gowns for stars such as Halle Berry, says Limanni had the right idea of trying to ignore all the showbiz antics and concentrate on the garments.
"I edit through to the clothes. I got past (Gaultier's) fur skirt and fur top and could appreciate the corset top and chantilly lace skirt that were underneath," he says.
Overall, Bloch says this season's couture clothes were much more "normal" than usual. He chalks that up to the economy.
"There was no room for showstopping clothes," he says. "The designers need to make clothes that people will actually wear."
Limanni's personal wardrobe got a little more adventurous as the week went on. She bought only one new piece -- a fitted jacket with a peplum -- but she wore the clothes that usually sit in the back of her closet.
"In my own life, I don't even wear makeup everyday," she explains. "But then someone asked, 'Who is that attractive woman with Phillip Bloch?' That was good for my ego, so the next day I'd be a little more daring and wear high heels all day."
Copyright 2018 The Associated Press. All rights reserved. This material may not be published, broadcast, rewritten or redistributed. We strive to uphold our values for every story published.