Yogi Berra once said, "It ain't a game unless kids play it first."
And children all over the country this summer are participating in a variety of outdoor team sports.
Recognizing the importance of promoting such endeavors for our youth, the U.S. Postal Service issued a special set in 2000 of four 33-cent stamps featuring color photos of children enjoying the action and excitement of sports -- baseball, football, basketball and soccer.
The Postal Service says that team sports promote socialization, encourage a healthy lifestyle and provide opportunities for young people to learn cooperation and teamwork, not to mention that playing is lots of fun, too.
Education and athletic experts claim that team sports involve a willingness to play by the rules, be responsible and reliable, and work with others toward a common goal. These are attributes that will help youngsters to do well when they become adults.
Most important, boys and girls learn good sportsmanship, individual skills and the desire to win. Nevertheless, coaches tell young athletes that winning isn't everything. It's how you play the game and learn to accept defeat, too.
The youth sports stamps are available at your local dealer by calling (800) STAMP-24.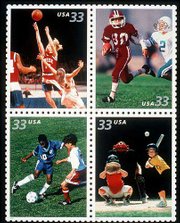 Copyright 2018 The Associated Press. All rights reserved. This material may not be published, broadcast, rewritten or redistributed. We strive to uphold our values for every story published.