New York — It sounds like an oxymoron: a deaf musical.
Yet, the folks at the Roundabout Theatre Company are out to prove it can be done on Broadway with a revival of the musical "Big River: The Adventures of Huckleberry Finn" that mixes hearing and deaf performers.
"It's not like the punch line of a joke," says Jeff Calhoun, the show's director and choreographer. "The goal is to have deaf actors and audiences get to experience what the hearing audience gets to experience in the musical theater."
The result is a clever hybrid of song, word and sign -- and a challenge for both sets of actors. The deaf learned to feel the music they couldn't hear; hearing actors spent months learning American Sign Language.
"It was a challenge at first learning to communicate in sign language, but I found that it offered me an extra way of getting into the character," says Michael McElroy, who plays the slave Jim. "I usually never know what to do with my hands on stage. In this show, that's not a problem."
By getting the entire cast to sign their parts, the producers replaced the need for an offstage interpreter translating the action into signs, eliminating a potential visual distraction for the hard-of-hearing audience.
And intricate choreography helped bridge another gap between the two worlds: Deaf actors communicate to the hearing audience by relying on colleagues elsewhere on stage to provide their voice.
That means, for example, that Daniel Jenkins, who plays the role of Mark Twain, belts out his own tunes and lines, and then slips out of the limelight to sing and speak for the part of Huck, played by deaf actor Tyrone Giordano.
"What I hope we're accomplishing is a marriage of the hearing world and deaf culture. And like any good marriage, it's based on a 50-50 relationship," says Calhoun.
"At every moment in the show, there's both sign and spoken word. I didn't want there to be one moment in the show that favored the hearing audience or the deaf audience."
Characters trump voices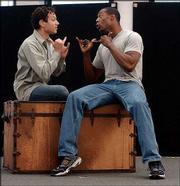 It may take the hearing audience a little time to get used to the fact that songs and words emanate from another character. McElroy, whose previous Broadway credits include "Rent," "Miss Saigon" and "Hair," thinks the effort is worthwhile.
"Deaf people can come experience a musical and not feel excluded or feel like they're missing the action because they have to watch a person in the corner signing the whole show," McElroy says.
"For hearing people, once they adjust to that fact that one person is talking and another is acting, you stop looking around and start to really follow the person who's signing. The voice isn't important; knowing what the characters are doing is more important."
The job of melding the deaf and hearing worlds fell to Linda Bove, one of the production's four American Sign Language masters. Her team converted Twain's language into sign language, then coached the performers to speak, emote and sign at the same time.
"It's like doing a translation from Spanish to English or from French to English: You really need to make some careful choices so the integrity of the original will be preserved," she signs through a translator.
"First, we put the sign away, and then we figure out the rhythm of the lines and scan that out. Then we go back to the signs and try to match the rhythms so they all match up in a smooth way," she says. "It's an art form that's still new and it's still improving and we're not satisfied with it yet, but it's fascinating to watch it develop before our eyes."
The original musical, with music and lyrics by Roger Miller and book by William Hauptman, won seven Tony Awards in 1985, including awards for best score, best musical and best book of a musical.
The current incarnation debuted in 2001 at the 99-seat nonprofit Deaf West Theatre in Los Angeles. A year later, it had moved to the city's prestigious Mark Taper Forum, where it won a clutch of local awards.
'Worlds Apart'
Making the move to Broadway required a few changes inside the American Airlines Theatre, including the installation of red lights and close-circuit TV monitors backstage to alert deaf cast members of their cues.
On stage, hard-of-hearing actors keep careful count or are tapped by their colleagues for their prompt. "I can only imagine the challenge of trying to teach non-hearing people to keep their internal rhythms going," says McElroy.
This kind of challenge has left cast members and producers with a new twist on Twain's story. One song in particular, "Worlds Apart," originally written about the gulf that exists between a slave and a white boy, takes on an additional layer of meaning when performed by deaf and hearing actors.
While careful not to compare the horrors of American slavery to the challenges faced by the deaf community, McElroy sees one possible parallel: "The one thing they really have in common is the fact that they are both on the outside."
For his part, McElroy says his overall experience in "Big River" has inspired him to learn a new language and to communicate better with his body. He also marvels about the deaf community's talent.
"Hopefully, there will be more musicals that incorporate and give opportunities for deaf and hard-of-hearing actors to work, because they obviously have the talent," he says, his hands animated, unconsciously signing phrases. "I look up at the actors on stage and the amount of emotion and skill that it takes to be able to do a song without being able to hear -- they deserve to work."
One adjustment that was particularly hard for the hearing cast was getting used to the fact that their nightly curtain calls might only get a smattering of applause. Instead of clapping, the deaf silently wiggle their hands.
"Sometimes there's huge applause and sometimes there's not. That doesn't mean that they don't enjoy it. It just means that the reaction is different," says McElroy. "I try to tune that stuff out because you don't want it to affect your performance, where you end up judging yourself. I just tune it out until the end, when I look out and it's a surprise. Then it's like, 'OK, they were there! There were people in the seats."'
Copyright 2018 The Associated Press. All rights reserved. This material may not be published, broadcast, rewritten or redistributed. We strive to uphold our values for every story published.