Its not time to hit the panic button, but Keith Knabe admits he's starting to worry about his corn crop.
"About three weeks ago it was looking pretty good," the eastern Douglas County farmer said last week. "Now it's looking dry."
Knabe, 991 E. 2400 Road, can see the kernels on his corn plants are not getting as big as they would be under more typical conditions.
Despite a few days of cooler weather last week, earlier weeks of 100-degree heat and the lack of rain have taken their toll on area corn fields.
Without more rain, the soybean crop may be threatened next.
"The topsoil is dry, and there isn't enough subsoil water," said Bill Wood, agricultural agent with the K-State Extension office in Douglas County. "We'd like to have a lot more rain."
Despite good spring and early-summer rains, most of Kansas remains in a moderate drought.
Lawrence received a total of 6 inches of rain in June but only a little more than an inch has fallen so far in July, 6News meteorologist Ross Janssen reports. Lawrence is 5.6 inches shy of normal rainfall for the year, he said.
Farmers aren't the only ones affected by the drought. The marina at Perry Lake still doesn't have water levels high enough for normal dock operations, according to marina business coordinator Bryan Bedigrew.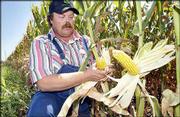 Although two docks that had been closed at the beginning of the boating season are now being used, a third dock had to be moved out to meet the water, he said. Business at the marina also has been affected.
"We've been down a bit in numbers," Bedigrew said.
It will take at least normal rainfall to bring eastern Kansas out of a drought by the end of the year, said Mary Knapp, state climatologist at Kansas State University.
"September and October are critical months," Knapp said. "If we don't get our fall rains, then we don't usually get a lot of rain in November and December."
Normal rainfall for the year in eastern Kansas is 34 to 36 inches, Knapp said.
The National Weather Service's long-range forecasts don't offer much of a clue as to what the weather has in store for Kansas. They only say there is a 50 percent chance Kansas will return to normal weather conditions.
But it will take more than "normal" weather to bring northwestern Kansas out of severe drought conditions, Knapp said.
Southwestern Kansas also has been listed as having "abnormally dry" conditions, which is slightly better than a moderate drought. But the rainfall numbers for that area of the state are deceiving, Knapp said.
"They had a downburst earlier this year that saw some places getting 15 inches of rain," Knapp said. "That's their whole year's rainfall all at once. It doesn't do any good when you get a lot rain like that all at once."
Copyright 2018 The Lawrence Journal-World. All rights reserved. This material may not be published, broadcast, rewritten or redistributed. We strive to uphold our values for every story published.