Wichita — It has been a long time since a Kansas University football player has been voted the Most Valuable Player of an all-star game.
Technically, John Randle didn't change that since he hasn't played a down for the Jayhawks -- yet.
But playing time shouldn't be a problem this fall for the incoming KU freshman.
In fact, the standout from Wichita Southeast said he thought he might even have an opportunity to do for the Jayhawks this fall what he did Saturday night.
Randle put on a clinic Saturday at the 30th annual Kansas Shrine Bowl, in which his West squad smothered the East, 35-2.
His 144 rushing yards and three touchdown runs easily earned him the MVP award Saturday night at Wichita State University's Cessna Stadium.
"Man, wow," exclaimed a smiling Randle, who almost was too buried by the throng of media following his every move after the game to snag the KU hat his uncle tossed his way.
But like he did all Saturday night, Randle didn't disappoint.
He caught the cap, pushed it proudly atop his head and proceeded to promote the work of his offensive linemen.
"See right there, that lineman freed me for that run," Randle said about his first touchdown score that gave the West squad all the cushion it would need.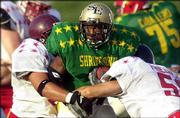 "And then right there, he throws that block, I make a cutback and I knew that I was gone," said Randle, watching a video monitor that replayed his 96-yard touchdown run in the third quarter, which was the longest scoring play in Shrine Bowl history. "I just knew that a couple of big plays would probably give one team the win, and tonight I had a couple of big plays and we got the win.
"But really all week long I wasn't looking to put on a show, I wanted to have fun and work hard for all the kids that come out here," Randle said. "But it sure is nice to go with a bang in your hometown."
The culmination of Lawrence High's Brandon McAnderson and Derrick Newman's high school careers didn't end in quite the same celebration.
Despite the lopsided loss and an intense week of game preparation, McAnderson said he enjoyed his last prep game in the Sunflower State.
"It was a fun time," said McAnderson, who was the East's primary ball carrier Saturday and finished with 56 yards on 19 carries. "No one on our team thinks they did really good with the score turning out the way it did.
"Despite the loss I think that I really remember this week for all the things besides football, like visiting the kids at the Shriners Hospital and knowing how important this game is for them."
In much the same fashion that the Lions' careers closed, so too did Eudora's Andrew Pyle.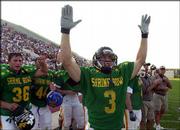 Pyle, who rushed for more than 4,000 yards the past two season for the Cardinals, finished his career with two rushes for minus-3 yards and two catches for four yards after switching from backup fullback to tailback midway through the first half when Overland Park Aquinas standout Drew Morano left with an injured shoulder.
"I really know that he is probably disappointed with the way this game turned out," said Eudora coach Gregg Webb, who was an assistant for the East squad, along with LHS coach Dirk Wedd. "But he's the kind of kid who will probably take so much from a game like this.
"He really wanted to come here and prove that he belonged, now it probably review some of the things that happened and try to make himself better."
So, too, could Randle, although Saturday he did little wrong.
But he had to wait to get started because the LHS graduates provided some of the East's most memorable moments on the game's first three plays.
McAnderson fumbled from the first play from scrimmage. But Newman -- who will play this fall at Butler County Community College, located just outside of Wichita -- handed the ball back to the East squad when he fell on a bad snap by the West squad.
Just seconds into the second quarter, Randle got going and capped off a six-play, 43-yard drive with a three-yard plunge into the end zone.
"Man, that kid is just amazing," said Wichita Kapaun's Garrett Guzman, who said he would walk on this fall for KU.
"We've been buddies for a long time, so it would really be nice to see what he will be able to do for the Jayhawks firsthand," continued Guzman, who set up Randle's score with a 28-yard reception.
Randle really got running in the third.
He took a handoff off tackle on the right side, passed a couple of lineman and sprinted untouched 96 yards for the score.
"I really got to give credit to my blockers for that one," he said with a smile. "But once I saw that one linebacker fall down, I was gone."
Despite the record-breaking performance, Randle's best score of the night might have been his third one.
With the West team threatening to score deep in East territory, Randle took a handoff at the five. He stutter-stepped one defender and then saw another coming his way before ...
"I knew that I got that one guy with that juke," Randle said. "But at the same time I saw another guy in the middle of the field coming my way, so I just spun."
That he did, easily tripping the defender up and allowing himself to waltz into for another score.
The West, which rushed for 292 yards Saturday, added two more offensive touchdowns to seal things. Liineman Matt Koehn, from Hesston, fell on a fumble in the end zone, and Norton's Terry Petrie powered in from a yard out.
Still, Saturday's stage was stolen by Randle, who said he wouldn't mind doing the same this season.
"I'm just coming up there and trying to pump some fire into that team and going to work hard for a chance at a spot," said a determined Randle. "I know about the past, but we have a whole different team this season and we honestly believe we can start to change things now."
Copyright 2018 The Lawrence Journal-World. All rights reserved. This material may not be published, broadcast, rewritten or redistributed. We strive to uphold our values for every story published.