Washington — Coming forward three decades after Watergate, a former top aide to President Nixon now contends that Nixon ordered the break-in that would lead to his resignation.
Jeb Stuart Magruder previously had gone no further than saying that John Mitchell, the former attorney general who was running the Nixon re-election campaign in 1972, approved the plan to break into the Democratic Party headquarters at the Watergate office building near the White House and bug the telephone of the party chairman, Larry O'Brien.
Magruder, in a PBS documentary airing Wednesday and in an Associated Press interview last week, says he was meeting with Mitchell on March 30, 1972, when he heard Nixon tell Mitchell over the phone to go ahead with the plan.
The break-in occurred 2 1/2 months later, on June 17, 1972.
Whether Nixon had advance knowledge has gone unanswered for three decades since former Sen. Howard Baker of Tennessee first asked, at hearings of the Senate Watergate Committee, "What did the president know, and when did he know it?"
Magruder, who pleaded guilty to conspiracy and perjury charges stemming from the break-in and spent seven months in prison, explained his three decades of silence on Nixon's culpability by telling the AP on Friday: "Nobody ever asked me a question about that."
Some historians doubt the allegation by Magruder, who was Nixon's deputy campaign director, an aide to Nixon's chief of staff, H.R. Haldeman, and deputy communications director at the White House. Stanley Kutler, an expert on Nixon's White House tapes, called it "the dubious word of a dubious character."
Magruder made the assertion on a PBS documentary, "Watergate Plus 30: Shadow of History." He elaborated in the AP interview.
The way Magruder tells the story, Nixon knew everything from the beginning.
Magruder says that on March 30, 1972, he met with Mitchell and discussed a plan by G. Gordon Liddy, a former FBI agent, to break into the Democratic Party headquarters to bug O'Brien's phone.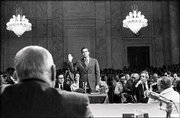 Magruder said Mitchell asked him to call Haldeman to see "if this is really necessary." Haldeman told him "yes," Magruder said, and then asked to speak to Mitchell. Mitchell and Haldeman talked, and then "the president gets on the line," Magruder said.
Magruder told the AP he knew it was Nixon "because his voice is very distinct, and you couldn't miss who was on the phone."
Magruder said he could hear Nixon tell Mitchell, "John, ... we need to get the information on Larry O'Brien, and the only way we can do that is through Liddy's plan. And you need to do that."
Magruder concedes that he did not hear every single word while Nixon was on the phone with Mitchell, but "I heard the import," he said.
Mitchell, Haldeman, Stans and Nixon are all dead.
In all, 25 people went to jail for their roles in the break-in or the attempt to cover it up.
Copyright 2018 The Associated Press. All rights reserved. This material may not be published, broadcast, rewritten or redistributed. We strive to uphold our values for every story published.