Eagle Base, Bosnia-Herzegovina — When commanders on this sprawling U.S. military base in Bosnia bark out "Cox!," three peacekeepers snap to attention.
The three sergeants -- Christopher Cox, 27, and twin brothers James and Jeff, 26 -- joined the Nebraska Army National Guard on the same day in 1994. Today, they're serving together in Bosnia -- part of a growing number of American brothers and sisters in arms who, along with married couples and fathers and sons, are doing peacekeeping duty in the Balkan country.
"We like being together," said Christopher Cox, of Doniphan, Neb., who shares a room with his brothers.
The United States played a key role in ending Bosnia's bloody 1992-95 war between the country's rival Muslims, Serbs and Croats, and thousands of U.S. troops have been deployed here since then.
About 1,700 now serve in a 12,000-member NATO-led force of soldiers from 30 nations.
Brig. Gen. James R. Mason, commander of American forces in Bosnia, says seeing brothers and sisters, fathers and sons serving together strengthens his faith in America.
"Most of these soldiers have strong, productive careers back home, yet they have chosen to leave their places of employment to serve their nation in a foreign country," he said.
For Specs. Daniel and Kristina Hall, their six-month deployment to Bosnia has been their honeymoon. The couple from Overland Park, Kan., married shortly before they shipped out in February.
"Serving in Bosnia might be easier than in Afghanistan or Iraq because no one's shooting at you, but it's still just as important," said Daniel Hall, 24, who joined the Kansas Army National Guard in 1997 to help pay for his education.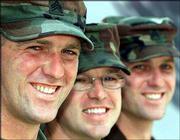 "Being here is a good experience for us," said Kristina Hall, 23, holding her rifle in one hand and her husband's arm in the other while sitting at a table. "It's made our relationship stronger."
Army National Guard Capts. Rosalia and Rosana Maldonado, 31-year-old identical twins from Miami enlisted along with an older sister, Melissa, 13 years ago.
In Bosnia, where they serve in different platoons in the same unit, the Maldonados share a room and make it a point to have lunch and dinner together each day.
They get letters from the more than 300 seventh- and eighth-grade science students they teach at Parkway Middle School in Miami, who clamor, "We miss you!" and "When are you coming home?"
Although their parents were worried when their daughters deployed to Bosnia in February, "they are comforted by the fact that we are together," Rosalia Maldonado said.
"Being together makes it much easier for us, too," she added.
Copyright 2018 The Associated Press. All rights reserved. This material may not be published, broadcast, rewritten or redistributed. We strive to uphold our values for every story published.