Santiago, Cuba — Standing before the military barracks where he launched his revolutionary battle 50 years ago, Fidel Castro accused the European Union on Saturday of being America's "Trojan horse" and saying its economic aid is no longer needed.
In a speech broadcast live on state-run television and radio, the Cuban leader mocked Europe's political leaders, saying they were unable to deal independently with the communist state without taking American policies into consideration.
"Cuba does not need the help of the European Union to survive," Castro told an enthusiastic crowd of about 10,000 invited guests, mostly Cuban officials and party leaders gathered for the 50th anniversary of the battle that launched their revolution.
Thousands of Castro's supporters cheered and chanted his name as he took his seat for the anniversary celebration of the audacious armed attack he led on the Moncada barracks in eastern provincial capital of Santiago when he was just 26 years old.
Before dawn Saturday, hundreds of Cuban schoolchildren with ancient BB guns arrived outside the barracks in vintage American sedans to re-enact the raid by 129 revolutionaries on then-dictator Fulgencio Batista's army.
More than a dozen of the men who survived the attack at the site five decades before were on hand as gunshots rang out over the former barracks that now serves as a primary school.
Although they were initially caught off guard, Batista's soldiers gained control of the situation. Six attackers and 16 soldiers were reported killed during the resulting fire fight.
Despite the mission's failure, it was a public relations success. Batista's violent response only brought Castro and his supporters more sympathy.
"Many great things in history started out as crazy acts," attack survivor Pedro Trigo Lopez said of the audacious raid.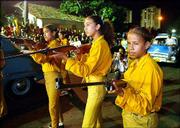 Copyright 2018 The Associated Press. All rights reserved. This material may not be published, broadcast, rewritten or redistributed. We strive to uphold our values for every story published.