Add one more item to the list of reasons community leaders should be pleased with Serologicals Corp.'s decision to build a new manufacturing plant in Lawrence.
The project has kept the Lawrence construction industry from getting off to its slowest start since 1997. The Serologicals plant, which is being built in the East Hills Business Park, is the largest construction project in the city for the first six months of this year.
The city has issued $18.5 million worth of building permits for the project, which will become a manufacturing plant for the Atlanta-based life sciences company that makes a variety of products used in the drug development process. Work on the building began in April.
The project was just what was needed to boost city building totals.
Through the end of June, Lawrence builders had started $76.9 million worth of construction projects. That's up about 21 percent from a year ago and puts the city on pace to have its second-best construction year in the last half decade.
Without the Serologicals project, the city's building total would have fallen to $58.4 million, which would have been the lowest six-month total since 1997 when Lawrence builders started $47.8 million worth of projects.
"It is amazing how some of those big jobs can skew the numbers a little bit," said Tracy Green, with Lawrence's B.A. Green Construction.
Green and other area construction officials said 2003 didn't seem as if it were one of the biggest years for the Lawrence construction industry. Instead, they said it had been just average.
Gale Lantis, an owner with Lawrence's Mar Lan Construction, said his company was projecting stagnant to low growth for 2003.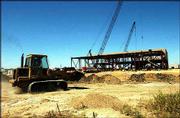 "Our projections will be that it will be a very similar year to what 2002 was," Lantis said. "That was a profitable year for us, so we're not complaining."
Lantis said there were probably fewer large-scale construction projects to bid on in the Lawrence area than during the mid-to-late 1990s. In those years, areas throughout west Lawrence were exploding with new office projects.
"We're still overbuilt in the office market, and it is going to take awhile for that to correct itself," Lantis said.
Residential construction
Residential construction in Lawrence hasn't been booming either, bucking a national trend. Low mortgage rates helped pushed national home building numbers to a record in 2002, and they have the National Home Builders Assn. predicting an even better 2003.
New single-family construction starts in Lawrence stand at 156 through June, up about 7 percent from the same period a year ago. But 2002, statistically was the slowest year for single family construction in at least 10 years.
For all of 2002, builders started 299 single-family homes, ending a 11-year streak of at least 300 new-home starts.
Lawrence home builders seemed thoroughly unconcerned that Lawrence didn't boom along with the rest of the country.
The total value of construction projects started January through June in Lawrence, as reported by the city's Building Inspections Department:
| | |
| --- | --- |
| 2003 | $76.9 million |
| 2002 | $63.2 million |
| 2001 | $84.0 million |
| 2000 | $62.3 million |
| 1999 | $59.1 million |
The total number of single-family homes started in Lawrence from January through June:
| | |
| --- | --- |
| 2003 | 156 |
| 2002 | 146 |
| 2001 | 158 |
| 2000 | 191 |
| 1999 | 211 |
The total number of nonapartment living units built in the city January through June. These totals combine the number of single-family and duplex units built:
| | |
| --- | --- |
| 2003 | 258 |
| 2002 | 234 |
| 2001 | 358 |
| 2000 | 213 |
| 1999 | 263 |
"What I've seen is just a normal fluctuation in the market," said Bob Santee, of Denning-Santee Construction. "If we went from like 310 houses a year to 150 or something like that, then that would be something to be concerned about."
Some builders speculated that Lawrence's reliance on building upper-end housing might explain why the city's numbers went down slightly while the nation's went up.
"Much of our growth in all but the lower end of the housing market is driven by corporate transfers," said Ron Durflinger, with Lawrence's Durflinger Homes. "People would be transferred to somewhere in the general eastern Kansas area and would choose to live in Lawrence. That slowed considerably after 9-11 and really almost came to a stop. It has only started to open back up again recently."
Tim Stultz, president of Highland Construction, said he had seen signs that the new housing market was ready to move upward.
"We've had a pretty big rush in July," Stultz said. "I think there was a time when everybody was a little bit shy about spending some money ... but I'm going full-speed ahead the rest of this year."
Population growth
Builders said they took notice of a U.S. Census Bureau report earlier this month that showed Lawrence's population growth in 2001 was at a slower pace than the city's historical average. The one-year increase in population checked in at 0.8 percent, about half the rate the city averaged during the 1990s.
If the slower growth rate becomes the norm, it could affect the number of new homes built in Lawrence. But builders said they weren't ready to raise the red flag just yet.
"Just as long as we have a steady growth, I think we'll be fine," Stultz said. "I'd much rather have that than a bunch of peaks and valleys."
Builders though did say population projections were worth keeping an eye on and highlighted the need for the community to work toward affordable housing and work on economic development issues.
"We're the most expensive community in the area and we have limited job opportunities," Durflinger said. "If it were not for the fact that we have KU and we're right in between Kansas City and Topeka, it could be a lot worse."
Lantis said the 2001 numbers also might serve as a reminder for the community not to become complacent about its growth.
"I think we should watch it," Lantis said. "I think everybody assumes that the growth we've had over the last 20 years will continue, but we need to make sure that it continues that way.
"We have to keep an eye on all the local politics and growth issues. It's just part of the business anymore."
Copyright 2018 The Lawrence Journal-World. All rights reserved. This material may not be published, broadcast, rewritten or redistributed. We strive to uphold our values for every story published.