Night after night, in city after city, audiences watch the woman in a leotard, a blood-red tear in the fabric evoking her broken heart, spin and wrap and dangle her body from a suspended hoop.
The aerial dance is about loss in the tale of disenfranchisement told in the Cirque du Soleil show "Quidam."
The audiences see only poetry. But sheer physical strength keeps Holly Rollins aloft. If her arms give out, she will use her legs to grasp the hoop so she does not crash to the stage 25 feet below.
Rollins and "Quidam's" 55 other performers train until excruciating physical moves become so programmed in their bodies they can give their psyches to the drama.
"The very best part," Rollins says, "is when I go very close to the people in the front row, and I can see their faces."
They are entranced. The physical has become spiritual.
Most of the Quidam performers would put the title "actor" before "athlete" to describe their calling. Yet they invest offstage hours in pushing, then coddling, the bodies they use each day to tumble, climb, swing, lift and pirouette.
Physical therapists Bronwyn Claassen and Nathalie Chartier travel with the troupe, working stressed muscles and sprained joints with hands smeared in oil. They find physicians at each tour stop, should they be needed. They remind performers of appointments for massage.
"Yesterday, I had to find a doctor for one of our artists who fractured his foot at the last stop," says Claassen, 36. "He's a flyer. The flyer is someone who gets thrown on top."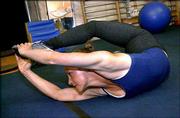 The artist, tossed aloft by teammates, turned a flip before landing feet-first on the shoulders of a man standing atop two others -- only to fall.
Most of the medicine Claassen administers is for sore muscles and sprains, says the former dancer. She previously toured as physical therapist with Australia's production of "Cats."
Performers range in age from about 12 to 52. The majority are in their 20s, culled from circuses in Europe or award-winning gymnastics teams and other sports clubs. They train for three to four months at Cirque du Soleil's Montreal home before being offered a contract with one of Cirque's eight shows.
Rollins, a dancer and gymnast, heard about Cirque du Soleil when she was teaching guests how to swing on a trapeze at a Club Med in the Bahamas. "I loved being in the air," she says.
"Quidam" performers, says Rollins, must pace themselves for the brutal demands of 10 shows a week and life on the road.
Training is often about building upper-body strength and maintaining flexibility. "Quidam" coach Matthew Sparks, 32, says the goal is not to see how much more you can curl, but to support one's own body weight, for long periods, in masochistic positions.
Performers take saunas and soak in hot tubs. They attend in-house Pilates classes.
Copyright 2018 The Lawrence Journal-World. All rights reserved. This material may not be published, broadcast, rewritten or redistributed. We strive to uphold our values for every story published.