Cooperstown, N.Y. — Outwardly, they couldn't have been more different: Eddie Murray, the silent slugger, and Gary Carter, the nonstop-talking and smiling "Kid."
Yet their lives have been almost mirror images: Both were born in the Los Angeles area, just two years apart; both were drafted in the third round; both played for the Mets and Dodgers; and both played on one world champion.
And today, both will enter the Baseball Hall of Fame.
"This is pretty awesome," said Murray, only the 38th player elected in his first year of eligibility. "This is the main place to be. I can't wait."
Carter's election in January came on his sixth try.
"My emotions are running sky-high," he said. "It completes my life, my career."
Joining them on the podium in Cooperstown will be Milwaukee Brewers announcer Bob Uecker, who will be honored with the Ford C. Frick Award for excellence in broadcasting, and Ohio sports writer Hal McCoy of the Dayton Daily News, who won the J.G. Taylor Spink Award.
Born in 1956, Murray grew up in a family of 12 children. At Locke High School, he played with fellow Hall of Famer Ozzie Smith and progressed quickly through the minors after the Orioles drafted him in 1973.
After a torrid spring training in 1977, Murray was ready for the next level, and Orioles manager Earl Weaver knew it.
"He burned up the Winter League in Puerto Rico, and all the scouts down there kept telling me he was some kind of player," Weaver said. "At the last cut, they said they were sending him down, and I said, 'You can't. You'll break his spirit.'"
Murray made a big impression with his bat, hitting .283 with 27 homers and 88 RBIs -- the sort of numbers "Steady Eddie" would produce with amazing regularity throughout his career -- and being named AL Rookie of the Year.
"When I came up, everyone was trying to say I was a home run hitter," Murray said. "I didn't want to be labeled that. I wanted to be a hitter."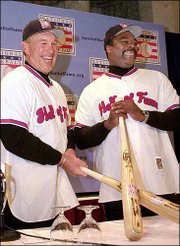 The switch-hitting Murray quickly became one of the most feared clutch hitters of his generation. He hit 504 homers, including 19 grand slams, second in major league history to Lou Gehrig's 23. He also drove in at least 75 runs for a major league-record 20 consecutive seasons.
Those who knew Murray best adored him. When Cal Ripken broke Gehrig's consecutive games played record in 1995, Murray was one of four people he specifically thanked, saying it was his teammate's professionalism that made him believe that he should be in the lineup every day.
"He was a fantastic teammate," said Ken Singleton, who played on the Orioles with Murray from 1977-84. "That's why quite of a few of his former teammates are going to be there (today). He was just a guy you could rely on, and not just on the field."
Murray played in three World Series in his 21 seasons, winning the title in 1983 as the first baseman and cleanup hitter for the Orioles.
When he retired in 1997, Murray had played more games at first base than anyone else in history, and only Mickey Mantle had hit more home runs as a switch-hitter (536).
While Murray was mauling American League pitchers, Carter was doing the same in the National League and developing into one of the finest catchers in major league history.
Although Carter was a standout quarterback in high school in the Los Angeles suburb of Fullerton and signed a letter of intent to play football at UCLA, he chose baseball after being selected by the Montreal Expos in the 1972 free-agent draft.
Carter, nicknamed "Kid" for his youthful exuberance, worked his way up the Expos' minor-league ladder, playing catcher, outfield, first and third base, and made the big club for good in 1975.
As a rookie, Carter was named to his first All-Star team and finished the season with a .270 batting average, 17 home runs, and 68 RBIs in 144 games.
He became the Expos' full-time catcher in 1977 and developed into one of the game's best defensive backstops. In that first full season behind the plate, Carter led NL catchers in putouts, assists, total chances, and double plays.
"All I ever wanted to do was play," said Carter, who had nine knee operations during his 19-year career. "I never feared embarrassing myself. If I am remembered, I hope it's most for giving it all I had and playing hard every day."
In 1981, Carter made his first All-Star start behind the plate and hit two home runs to win game MVP honors. He led the Expos to their first and only playoff berth.
With the Mets in 1985, Carter hit a career-high 32 home runs, drove in 100 runs, and batted .281 while handling a talented young pitching staff that included Dwight Gooden, Ron Darling and Sid Fernandez.
After single-season stints in San Francisco and Los Angeles, Carter returned to the Expos for one final campaign before retiring. He still holds the major league career record for most putouts at catcher (11,785) and most chances accepted at catcher (12,988).
Murray was elected to the Hall on the day of his sister Tanja's funeral. Carter's dad, who was his Little League coach, died less than three weeks later.
As excited as both men are to enter the Hall, today's induction promises to be a trying time for both.
"The loss of my father will make it a sad time trying to get through that, when I talk about my father and how much he meant to me," Carter said.
"It's mentally draining," added Murray. "There are times you look forward to it and times you wish it was over."
Copyright 2018 The Associated Press. All rights reserved. This material may not be published, broadcast, rewritten or redistributed. We strive to uphold our values for every story published.