St. Louis — Tino Martinez is in a good spot these days -- hitting right behind Albert Pujols in St. Louis' lineup.
Martinez and Pujols combined for eight hits and six RBI as the St. Louis Cardinals defeated the Pittsburgh Pirates 13-8 Saturday.
"It's always fun to hit," Martinez said. "It's a great lineup to hit in to begin with. But hitting behind Albert, you know he's going to be on base all the time."
That was the case Saturday. Pujols went 4-for-5 with two doubles to increase his major league-leading average to .376. He now has an NL-high 44 multi-hit games and has hit in at least 10 straight games for the third time this season.
Martinez went 4-for-5 with two RBIs, Edgar Renteria added three hits and Scott Rolen hit a three-run homer for St. Louis, which got 19 hits.
"That's pretty good after a tough game last night, Pujols said. "We needed to come out and score right away."
The hit everyone was talking about, however, was Jason Isringhausen's bases-loaded triple in the eighth for his first hit with the Cardinals.
"I haven't hit since '98," Isringhausen said. "I was told not to swing, but I just couldn't help myself."
Isringhausen recorded an out in the eighth and gave up two runs in the ninth before finishing for his eighth save in nine opportunities.
Cardinals starter Woody Williams (14-3) benefited from St. Louis' offensive outburst. He won his fourth straight start, allowing five runs and eight hits over a shaky 52/3 innings. The Cardinals scored seven runs off Pittsburgh starter Josh Fogg (6-5), who is 1-4 with an 8.49 ERA in six career starts against the Cardinals.
Reds 8, Mets 3
New York -- Jose Acevedo struck out a career-high 10 in his first complete game, and Adam Dunn had three hits and drove in two runs as the Cincinnati Reds snapped a four-game losing streak.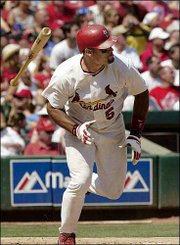 Acevedo (2-0) threw 111 pitches -- 81 strikes -- and, struck out four straight in the fourth and fifth innings. He has won two straight since being recalled from Triple-A Louisville on July 18. Aaron Boone added two singles.
Braves 15, Expos 4
Montreal -- Javy Lopez's bases-loaded triple keyed a five-run first inning and Andruw Jones had four hits and three RBIs. Gary Sheffield had three hits -- including his 25th homer -- and three RBIs.
Astros 3, Cubs 1
Houston -- Tim Redding allowed two hits in seven strong innings and Jeff Bagwell homered.
Lance Berkman had an RBI double for the NL Central-leading Astros, who took a 3-1 lead on Bagwell's 22nd homer in the sixth.
Redding (7-9) did not allow a hit until Aramis Ramirez's 400-foot triple to the hill in center field with one out in the fifth.
D'backs 1, Dodgers 0
Phoenix -- Elmer Dessens drove in a run with his first triple and pitched seven shutout innings to lead Arizona over Los Angeles. It was Arizona's second straight narrow decision over the Dodgers, coming hours after a 2-1 victory in 15 innings late Friday night.
Marlins 10, Phillies 5
Miami -- Two errors by center fielder Marlon Byrd led to a pair of unearned runs, and Josh Beckett allowed one run in six innings. Ivan Rodriguez and Miguel Cabrera each drove in three runs for the Marlins.
Rockies 13, Brewers 8
Denver -- Preston Wilson had two homers and three RBIs, and Jay Payton hit a clutch two-run single. Milwaukee's Richie Sexson was 4-for-4 with four RBIs, including a three-run homer.
Padres 2, Giants 1
San Francisco -- Phil Nevin hit his first home run of the season and Kevin Jarvis took a six-hitter into the eighth inning. Barry Bonds went 1-for-2 with two walks, one intentionally. Jarvis (4-2) won his fourth straight start.
Copyright 2018 The Associated Press. All rights reserved. This material may not be published, broadcast, rewritten or redistributed. We strive to uphold our values for every story published.