JACKSONVILLE, FLA. — Sidelined while he recovers from an appendectomy, Jaguars defensive end Tony Brackens said Saturday he expects to be back in drills within two-to-three weeks.
The Jaguars placed him on the physically unable to perform list Friday, the day before training camp started, throwing his availability for the season into question.
Brackens, however, is more sure. He says his surgically repaired left knee is fine, and if it weren't for an emergency appendectomy he had last month, he would be on the field now.
"As for right now, with my knee, I'm able to do whatever, as soon as the appendectomy part is over," he said.
When Brackens returns, he'll likely compete to play at left end, opposite Hugh Douglas, who signed a free-agent contract and immediately took Brackens' old spot.
Brackens, the team's career sack leader with 49, received a $13 million signing bonus in 2000. He has played 33 games since. Faced with being cut in the offseason because of the uncertainty with his knee, he agreed to lower his $5.5 million salary in 2003 to $1.1 million and received a $200,000 signing bonus.
Meanwhile, the Jaguars reported no progress in negotiations with first-round draft pick Byron Leftwich.
Cardinals
Flagstaff, Ariz. -- Offensive lineman Raleigh Roundtree might have surgery to remove an enlarged spleen, which would sideline him four-to-six weeks.
The Cardinals made the announcement after tests by team physician Wayne Kuhl showed that Roundtree had "significant enlargement" of the spleen as well as anemia.
The spleen problem first was noticed during a routine physical exam Friday. More tests are planned for Monday. If they confirm the preliminary findings, he will have surgery.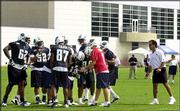 Roundtree, entering his seventh NFL season, played five years with San Diego before he was signed by Arizona as a free agent last year. He played in 10 games at guard and tackle last season, starting six.
Panthers
Spartanburg, S.C. -- Offensive guard Bruce Nelson missed the start of training camp Saturday morning but later agreed to a four-year deal and will be at camp today.
The guard from Iowa was the 50th player taken in the NFL draft.
Carolina also agreed to terms with free-agent receiver Terrence Wilkins, who will help replace the injured Kevin Dyson. Wilkins can also be a kick returner.
Chargers
Carson, Calif. -- The Chargers kicked off training camp without two veterans: linebacker Junior Seau and safety Rodney Harrison.
Seau, San Diego's leader for 13 seasons, was traded to the Miami Dolphins in March. Harrison, twice a Pro Bowl strong safety, was released and signed with the New England Patriots.
But with change comes opportunity. To fill the leadership void, the team is looking to Pro Bowl running back LaDainian Tomlinson, quarterback Drew Brees and defensive ends Marcellus Wiley and Raylee Johnson.
But Tomlinson said practicing without Seau is strange.
"Because Junior had been with the Chargers for so long you were just used to seeing that blue No. 55 jersey," he said.
Steelers
Latrobe, Pa. -- Defensive lineman Casey Hampton reported overweight and was the only experienced player to struggle in coach Bill Cowher's annual camp-opening running test.
Most players easily completed the 14 40-yard dashes on a partly cloudy, 84-degree day, but the 320-pound Hampton missed three runs to catch his breath.
Cowher said Hampton needs to lose weight -- he wouldn't say how much -- before he's back to being in game shape.
Kendall Simmons was released from the hospital Friday night after being diagnosed with diabetes last week. He lost more than 30 pounds in a short time.
Simmons, who now weighs about 305 pounds, hopes to start running and weight lifting again in a day or so and return to practice in about a week.
Dolphins
Davie, Fla. -- Defensive end Adewale Ogunleye injured his left knee during practice but is day-to-day. Ogunleye had 91/2 sacks and started all 16 games last season.
"He's fine. It was just sore," coach Dave Wannstedt said.
Also, toward the end of morning practice, defensive end Jason Taylor and tackle Todd Wade got into a shouting and shoving match that ended with the players being restrained by teammates.
Bills
Pittsford, N.Y. -- Takeo Spikes needed no prompting to show his enthusiasm when he arrived at his first Bills' training camp.
Walking up the stairs to the team's headquarters alongside fellow starting linebackers London Fletcher and Jeff Posey, Spikes called out to a group of reporters.
"Here are the three best linebackers in the league," Spikes said. "Print it, fax it, write it, photocopy it. This is where it's at."
It was a fitting and highly anticipated entrance for the newcomer getting a new start after signing with Buffalo last March following five losing seasons with Cincinnati.
"It fires me up greatly, knowing that you have a chance to walk in here knowing that you're going to win," Spikes said. "That's priceless to me. That's what drives me. I know where I've been, and I know where I want to go."
Giants
Albany, N.Y. -- Pro Bowl tight end Jeremy Shockey missed the final half of the New York Giants' afternoon practice after developing blisters on his right foot.
"They were supposed to have the shoes here a long time ago and he just got them, so he has some blisters," coach Jim Fassel said.
Shockey set team records for rookies and tight ends last season when he caught 74 passes in 15 games. He missed one game with a turf toe injury.
Fassel had no word on negotiations with defensive tackle William Joseph, the Giants' first-round draft pick. The Miami product has missed the first two days of training camp.
Seahawks
Cheney, Wash. -- Trent Dilfer took a snap, dropped back and fired a pass downfield. He looked as steady as ever, but this training camp promises to be a little tougher than previous years.
Dilfer's 5-year-old son, Trevin, died in April after a 40-day fight against heart disease. At a team minicamp in June, the quarterback broke into tears and didn't take questions after his first public comments since his son's death.
A team spokesman said Dilfer isn't ready for interviews and wants to focus on football, where he faces another issue. He's coming back from a torn right Achilles' tendon that forced him to miss the second half of last season.
Bengals
Cincinnati -- Marvin Lewis made many changes, some significant and others cosmetic, in six months since being hired to coach the NFL's worst team: A new staff, a retooled roster, a spruced-up weight room.
Today, he hopes to start the biggest transformation yet -- turning the Cincinnati Bengals into winners.
"I think a lot of the skepticism that came from around the league -- you can't do this, you can't hire those coaches, you can't find those free agents -- well, we've done all that," Lewis said. "We've put the offseason together.
"The exciting part for me is now we're up to the point where there's a chance to coach the football team. I think we've accomplished a lot thus far."
The Bengals haven't had a winning season since 1990, stamping them as the league's worst team. They went a franchise-worst 2-14 last season.
Copyright 2018 The Associated Press. All rights reserved. This material may not be published, broadcast, rewritten or redistributed. We strive to uphold our values for every story published.