Boston — David Ortiz knows how to take orders.
Called on to pinch-hit with two outs in the ninth inning of a tie game Saturday, Ortiz carried out Boston manager Grady Little's instructions to the letter.
"I wasn't trying to do too much that at-bat. Grady told me to go and hit the Green Monster," Ortiz said.
He did just that, sending Armando Benitez's pitch off the left-center fence at Fenway Park for an RBI single that gave the Red Sox a 5-4 win over the New York Yankees.
"I knew (Benitez) has a good fastball and I guess I was just looking for a fastball," Ortiz said.
Ortiz, who didn't start because he is 0-for-20 lifetime against Yankees starter Mike Mussina, spent part of Saturday morning working on his swing with Red Sox hitting coach Ron Jackson.
"I have been getting under the ball lately and we were working on that and getting my timing right," Ortiz said. "He corrected me."
Home runs by Nomar Garciaparra and Manny Ramirez helped the Red Sox build a 4-0 lead against Mussina, who had won four straight decisions against Boston. But the bullpen blew it, nearly wasting an outstanding start by John Burkett.
The Yankees tied the game against closer Byung-Hyun Kim on Karim Garcia's pinch-hit RBI single in the eighth.
Benitez (0-1), acquired from the Mets on July 16, gave up a one-out single to Jeremy Giambi in the ninth.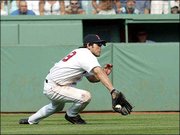 Giambi stole second -- his first career steal -- as Jason Varitek struck out. After Johnny Damon was intentionally walked, Ortiz came through.
"They got me. What can you do?" Benitez said. "I made a good pitch to him."
Yanks shortstop Derek Jeter thought Giambi was out at second, but Giambi said catcher Jorge Posada's throw was off line.
"Jeter had to pull the ball from the other side of the bag and that's why I was able to get in there," Giambi said. "I was able to slide around the tag."
Indians 9, Twins 2
Cleveland -- Rookie Jody Gerut hit a grand slam to highlight Cleveland's eight-run second innings.
Billy Traber (5-5) made the huge, early lead stand up by holding the Twins to one earned run and six hits in 61/3 innings.
The Indians improved to just 2-8 since the All-Star break, and slowed down the Twins, who had finally crawled back to .500 by winning seven of nine in the second half.
Gerut and Travis Hafner each had three hits as Cleveland matched a season high with 17.
Gerut's first career slam capped Cleveland's outburst off starter Kyle Lohse (6-9), who hasn't won in his last eight outings.
The Twins are just 17-19 vs. the AL Central this season after going 50-25 inside the division in 2002.
Devil Rays 10, ChiSox 6
Chicago-- Rocco Baldelli homered and drove in four runs as Tampa Bay snapped Chicago's eight-game winning streak.
Aubrey Huff went 3-for-4 with two doubles and two RBIs for the Devil Rays, who won for just the 15th time in 49 road games. Tampa Bay finished with 15 hits, including a season-high seven doubles.
Baldelli's big game came one night after he was doused with beer by a fan sitting in the bleachers at U.S. Cellular Field. He broke a 5-5 tie in the sixth inning with a two-out, two-run double off reliever Rick White (1-2).
Huff followed with a double off the left-field fence, scoring Carl Crawford and Baldelli for a 9-5 lead. Huff also doubled in the ninth and scored on a sacrifice fly by pinch-hitter Al Martin.
Crawford went 3-for-4 in the leadoff spot.
Mariners 4, Rangers 0
Seattle -- Joel Pineiro pitched a career-best three-hitter to win his seventh straight decision. Ichiro Suzuki hit an RBI single and Bret Boone had a sacrifice flys.
Orioles 7, Blue Jays 2
Toronto -- Pat Hentgen beat his former team, and Jeff Conine and Melvin Mora homered. Hentgen (3-5) allowed two runs and five hits in six innings.
Athletics 8, Angels 1
Anaheim, Calif. -- Rich Harden earned his first major league win and Billy McMillon hit a homer as Oakland beat Anaheim. McMillon, Miguel Tejada and Scott Hatteberg had three hits apiece. Eric Chavez added a two-run double. Harden (1-0) allowed one run and seven hits in seven innings.
Copyright 2018 The Associated Press. All rights reserved. This material may not be published, broadcast, rewritten or redistributed. We strive to uphold our values for every story published.