Photographer: Richard Gwin
Camera: Nikon D1H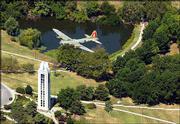 Lens (mm): 300
ISO: 250
Aperture: 6.3
Shutter: 1/800
Richard Gwin was assigned to shoot the World War II airplane parade during Dole Institute of Politics dedication events last weekend. After making arrangements with a pilot at Lawrence Municipal Airport, Gwin took off over Lawrence in a Cessna 152. The airplane has a high-wing placement that allows the photographer to open and shoot photographs out his window.
Not part of the air parade, the Cessna was required to be the first plane in the air and the last to land which resulted in a 2 1/2-hour ride in cramped quarters for Gwin. Flying above the parade planes, Gwin, at first, had difficulty spotting the camouflaged aircraft against the landscape below.
He soon realized it was easier to locate the planes by watching for their shadow on the ground. After locating the larger B-17, Gwin and the plane had to coordinate a flight pattern that would position their plane to photograph the vintage WWII plane against the familiar background of Kansas University's Campanile. Although Gwin shot dozens of photographs during the flight, this image was one of only 4 quick frames taken while the WWII memorial bell-tower, the WWII plane and the Cessna aligned for the photograph.
Copyright 2018 The Lawrence Journal-World. All rights reserved. This material may not be published, broadcast, rewritten or redistributed. We strive to uphold our values for every story published.