Lawrence Raiders coach Carl Brooks knew his squad would be in next week's American Legion State baseball tournament in Hays.
But Olathe MAAE did its best to delay the Raiders' arrival in the Legion zone II tournament championship Thursday night at Free State Field.
The Falcons worked pitch counts, staged mini-rallies and flirted with leads twice -- not that any of it mattered.
Despite the pesky Falcons, Lawrence claimed its fourth zone crown under Brooks, winning 15-7 in a 3 1/2-hour, nine-inning marathon.
"We did a lot to help them stay in the game," Brooks said. "We didn't throw strikes early in the game and we got behind in the count. They're too good a hitting team to be pitching that way.
"But I never doubted we'd win."
That confidence comes from the Raiders' marvelous offense and a solid relief performance from closer Blake Dickson. Lawrence (35-10) ripped off 41 runs in three tournament games, mostly in bunches.
The Raiders posted seven runs in the sixth inning, which usually signals an early end to a game, like Wednesday's 14-1 win against MAAE. Lawrence had six hits, including a triple from Derek Bailey and doubles from Taylor Martin, Matt Lane and David Arndt, and led 12-4.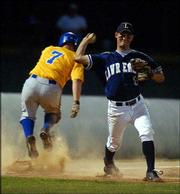 But the Falcons scored three in the bottom of the sixth, prolonging the outcome.
"They kept coming at us with little runs," Dickson said. "But that's the way great games go. It was like that all night and kept it close."
Until Dickson slammed the door.
He struck out eight batters in 3 1/3 innings and didn't allow a hit for his third save this season. Lawrence starter Dominick Harrell picked up the win, but never looked comfortable in his first outing in more than two weeks.
Still, that Raider offense makes up for so many things.
Lawrence had four errors and a couple of baserunning gaffes, but was once again monstrous at the plate. Martin -- who went 11-for-14 during the tournament, a .733 average -- went 5-for-6 with three RBIs Thursday, while Tommy Mangino was 2-for-6 with a double, four RBIs and a towering home run in the eighth inning.
"We didn't underestimate them," Martin said. "We're just happy to win zone and get to state."
It's Brooks's fourth straight trip to state, which starts Thursday. Of all those teams, Brooks said this one was the most talented and most capable of making its mark next week.
"All I have to do is stay out of the way and not make any coaching mistakes, because they're gonna score runs," Brooks said. "My goal is just to put the best guys on the field."
Raiders 15, Falcons 7
Lawrence 013 017 030 -- 15 18 4
Olathe 100 033 000 -- 7 8 5
W -- Dominick Harrell. L -- Mark Ensminger. S -- Blake Dickson (3)
2B -- Lawrence: Tommy Mangino, Taylor Martin, Matt Lane, David Arndt; Olathe: Blake Revelle. 3B -- Lawrence: Derek Bailey. HR -- Lawrence: Mangino; Olathe: Brent Sirks.
Lawrence highlights: Bailey 2-for-5, RBI, 3 runs; Mangino 2-for-6, 4 RBIs; Matt Berner 2-for-5; Martin 5-for-6, 3 RBIs; Lane 2-for-5, RBI; Arndt 2-for-4, RBI; Tyler Blankenship 1-1, 3 runs.
Lawrence record: 35-10. Next: State tournament Thursday in Hays.
Copyright 2018 The Lawrence Journal-World. All rights reserved. This material may not be published, broadcast, rewritten or redistributed. We strive to uphold our values for every story published.