Even if the girls on the Lawrence Phenix 14-under softball team didn't show it, Thursday's game mattered.
After all, the Phenix were participating in the American Fastpitch Assn. "B" National tournament this week at Clinton Lake Softball Complex and Youth Sports Inc. fields.
But Phenix coach John Hamilton isn't going to let a 7-4 pool-play loss to Tuttle (Okla.) Magic ruin his team's focus when bracket play begins today for the 42-team, double-elimination tourney.
"We're going to go home, get our rest and rejuvenate for tomorrow," he said.
The Magic plated three runs in the first inning and won their third straight game in pool play.
Despite losing two of three pool-play games, the Phenix secured a No. 2 seed because three teams were tied at 1-2 and the Phenix won the tiebreaker for allowing the fewest runs scored.
"I really believe that every team playing today still has a shot at winning this thing," said Hamilton, whose team will play the Oklahoma All-Stars at 11:30 today at YSI. If they win there, the Phenix would play again at 7:30 tonight at Clinton. If they lose, the Phenix would play in the loser's bracket at 4:30 p.m. at Clinton.
"Every team out here is good enough to win every time, if they capitalize on their scoring opportunities and don't make stupid mistakes," Hamilton said.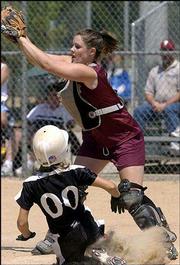 After trailing 3-0, the Phenix scored two runs in the second only to give them right back in the bottom half of the inning. The Phenix threatened again in the fourth but stranded two runners and closed the gap to 5-4.
"We did miss a couple of great shots there, and from then on we really couldn't get all the way back in it," Hamilton said. "But if we're going to lose, we'd rather do it in pool play."
The 16-under Phenix squad didn't lose their third game of pool play, but they will have a much earlier start today when their 32-team tourney starts.
The Phenix play the KC Slammers at 8:30 this morning, because they took third in their pool. Despite tying the Trojanettes Red with a 2-1 record and the same number of runs allowed, the Phenix lost their head-to-head battle against the Trojanettes Red, 10-3, Wednesday.
"We were in one of the most evenly played pools out there," said Phenix coach Gary Tanner, whose team beat the Blasters 10-0 Thursday. "But we don't mind playing that earlier, we're very eager to get out there and get this thing started for real."
That was the case Thursday when Jessica Tanner belted a three-run home run in the first inning. Pitcher Lisa Pearse, who has given up just two hits in two games and not allowed a run, blanked the Blasters.
"We just came out and played like we know we can, the next game was the next game," Tanner said.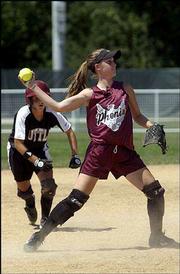 If the Phenix win their first game today, they would play again at 1 p.m. at YSI; a loss would mean playing at 4:30 at YSI.
The Tonganoxie Braves, 2-1 in pool play, earned a 6-2 victory against the Baseburners Thursday after being taken to the woodshed by the Edna Woodshed Wednesday in a 8-2 loss.
"Last night we had a hard game and we knew that it was going to be a hard team," said Braves coach Pat Albert, whose team plays the Highland (Ohio) Hornets at 10 a.m. today at Clinton. "Tonight was rather easy, it seemed like another normal game."
Not that the Braves are taking the victory for granted, but having been to four national tournaments already this summer, Albert said wins starting today would be key.
"They know what it's all about," Albert said of his team, which with a win today would play at 7:30 p.m. at YSI; a loss would mean a 6 p.m. game at YSI. "It all starts to count today."
Copyright 2018 The Lawrence Journal-World. All rights reserved. This material may not be published, broadcast, rewritten or redistributed. We strive to uphold our values for every story published.