New York — A political rival shot and killed a councilman who crusaded against urban violence, opening fire Wednesday inside City Council chambers after bypassing security with his victim.
A plainclothes police officer shot and killed the assailant, who was a political opponent of the councilman and had accompanied him into the building, Mayor Michael Bloomberg said. The gunman's ties to the councilman apparently allowed him to bypass security.
"Obviously, there was a breakdown someplace," said Bloomberg, who was in his office at the time of the attack and unharmed. Bloomberg said that all officials, including himself, would now be required to go through the machines. Employees and police officers had been exempt.
Brooklyn Councilman James Davis, a former police officer and outspoken presence on the council, died from two gunshots to the chest as 14 bullets rattled across the landmark lower Manhattan building, authorities said.
The gunman, Othniel Askew, 31, died a short time later at a hospital, according to a police source.
City Hall erupted in chaos after the shots were fired, when it was unclear whether the gunman had escaped. As shots echoed across the second floor of City Hall, people dove for cover beneath their desks and the rotunda filled with screams.
Askew had filed papers to oppose Davis in a three-way council race in this fall's Democratic primary, Bloomberg said. But he was not an official candidate because he had not filed enough petition signatures.
Councilman Charles Barron said he encountered Davis and Askew outside City Hall on their way into the meeting. Davis introduced Askew, telling Barron, "This is the guy who was once against me, but now he's with me." Askew offered a firm handshake and an intense stare, Barron said.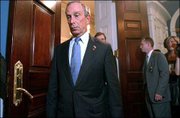 A short time later, Barron stood staring into the balcony as the gunman shot down at Davis' prone body.
"He wasn't shooting randomly," Barron said.
Davis, 41, who was black, joined the police department in 1993, 10 years after he was beaten by two white officers, according to his Web site.
In 1991, Davis founded "Love Yourself Stop the Violence," a not-for-profit organization dedicated to stopping violence in urban America. He was elected in 2001, and was a minister.
Late Wednesday night, hundreds of family members, friends and colleagues reflected on Davis' life during a memorial at Brown Memorial Baptist Church in Brooklyn.
"He was a man with a heart so big he just had to give more," said council Speaker Gifford Miller. "Even when he was busting my chops, he had a smile on his face, and I usually had a smile on mine."
Copyright 2018 The Associated Press. All rights reserved. This material may not be published, broadcast, rewritten or redistributed. We strive to uphold our values for every story published.