Bayonne, France — Riding with the pain of a double-fractured collarbone, it could be argued that Tyler Hamilton shouldn't even be in the Tour de France. Try telling him that.
Grimacing in discomfort, the boyish-looking 32-year-old, who long played second-fiddle to superstar Lance Armstrong, won his first-ever stage in cycling's premier race Wednesday -- sweet compensation for being too injured to challenge his former leader as he pursues a record-tying fifth title.
Fittingly for a racer who has made a career of overcoming pain, Hamilton won the hard way: breaking ahead in a brave solo effort to ride most of the last half of the stage alone.
Four-time champion Armstrong, who finished 1 minute, 55 seconds behind to retain his overall lead, was among the first to congratulate his former teammate with a hug.
"I think this is the biggest day of the Tour," Armstrong said. "Incredible."
Hamilton agreed. "To win a stage of the Tour de France is fantastic," he said. "It's beyond my wildest dreams. After today, I'll forget about the disappointment."
Just 17 days earlier, on the second day of the three-week slog around France, Hamilton thought his Tour was over. Caught in a crash involving about 35 riders, he cracked his right collarbone in two places -- an injury he and others thought would make it impossible for him to cope with the 2,016 miles of bumpy roads and grueling mountain climbs to come.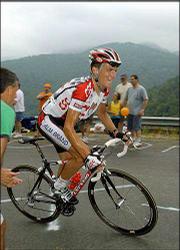 But this man ain't for quitting. Walking gingerly in pain, his shoulder heavily bandaged and his bike specially adjusted to spare him from jolts on the road, he emerged from his team bus the next morning saying he was soldiering on.
"I had to prove to myself that I couldn't ride," he wrote in the electronic journal he keeps online.
With just four days of racing to go, Hamilton's still here -- and challenging for a top-five finish thanks to his win in the 122.5-mile mountainous 16th stage from Pau in the Pyrenees to Bayonne on the Atlantic coast.
Armstrong placed 24th, finishing with the same time as archrival Jan Ullrich, leaving their gripping head-to-head rivalry on ice for another day.
Ullrich, the 1997 winner who finished 17th, is still gunning to win, despite trailing Armstrong by 67 seconds overall.
"From the first to the last meter, I'll give everything," the 29-year-old German said. "I hope I can beat Lance. At least I still have a chance."
Copyright 2018 The Associated Press. All rights reserved. This material may not be published, broadcast, rewritten or redistributed. We strive to uphold our values for every story published.