With the speed-happy tourists from Winston Cup just passing the halfway turn in the season, here's one observer's view of what might happen between now and November:
Steady Matt Kenseth has paced the points standings since the fourth race at Atlanta. Can he maintain his lead and win his first Winston Cup championship? Kenseth has been remarkably consistent: top-10 finishes each week are almost certain. Unless he self-destructs, Kenseth should win the title, triggering celebration in his native Wisconsin.
Should Kenseth falter, who will overtake him? The top candidates are Jeff Gordon, Dale Earnhardt Jr., Bobby Labonte and Jimmie Johnson.
Will Rusty Wallace win a race this year? Since his last victory at California in 2001, Wallace has gone winless in 81 races, the longest slump of his career. Earlier this year, crew chief Bill Wilburn guaranteed a win for Wallace. He'll have 17 more chances this season.
Will more drivers be upset with Robby Gordon? He's already had Jeff Gordon and teammate Kevin Harvick mad at him.
The Nextel factor: start getting used to it. Beginning next year, Nextel takes over from R.J. Reynolds as main sponsor of NASCAR's top series. Bound to happen: look for cell phones painted with the numbers and car colors of your favorite drivers.
NASCAR nixes AT&T; as a primary team sponsor. Have to keep Nextel and its millions happy. Even before Nextel signed on, NASCAR had already gone corporate, so the decision comes as no surprise. This isn't your father's overalls-and-grits NASCAR any more.

Weirdest statistic of the first half: Steve Park won two poles, but failed to lead a lap in either race. Next time he qualifies fastest, maybe he should volunteer to move to the middle of the field.
Which driver will win the most races? Kurt Busch and Ryan Newman are the leaders with three each. Prediction: Jimmie Johnson will finish with the most victories.
Ricky Rudd is scheduled to make his 700th consecutive start Sunday at Pocono Raceway. Rudd's remarkable run includes one victory in 48 starts at Pocono. He's a disappointing 21st in points.
Watch for Dale Jarrett to improve his 28th place standing with new crew chief Sean Parker. Terry Labonte (16th) also is showing signs of climbing in the standings.
Drivers who need to crank it up: Rudd, Mark Martin, Ward Burton, Jimmy Spencer, Kyle Petty.
If NBC didn't have Fox as a comparison, NBC's telecasts would be fine.
From this viewer's standpoint, however, Fox's Mike Joy-Darrell Waltrip-Larry McReynolds crew still outpoints NBC's Alan Bestwick-Benny Parsons-Wally Dallenbach trio. Fox's announcing team just seems more natural.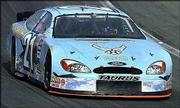 Look for Greg Biffle and Jamie McMurray to wage a close battle for rookie of the year honors.
They are aided by being with strong teams: Biffle, Roush Racing; McMurray, Ganassi Racing.
Drivers to look for from the Grand National series: Scott Riggs, Brian Vickers, Johnny Sauter.
Drivers to look for from the Truck series: Brendan Gaughan, Travis Kvapil, Jon Wood, Carl Edwards.
Copyright 2018 The Lawrence Journal-World. All rights reserved. This material may not be published, broadcast, rewritten or redistributed. We strive to uphold our values for every story published.