Toronto — Paul Konerko took one for the team.
Magglio Ordonez hit a tying two-run double in the ninth inning and Toronto reliever Dan Reichert plunked Konerko with a pitch to score the go-ahead run as the Chicago White Sox rallied for their season-high sixth straight win, 7-6, Wednesday night.
Juan Acevedo (1-4) gave up one-out singles to Roberto Alomar and Carlos Lee, then walked Frank Thomas to load the bases. Reichert relived and Ordonez doubled to left, scoring Alomar and Lee. Reichert intentionally walked Carl Everett to face Konerko, who was hit on the first pitch he faced.
Teammates Billy Koch and Frank Thomas asked if he was OK after the game.
"At first I said it was the easiest RBI you'll ever get, but then I realized that it hit you on the cup and that's the toughest RBI you'll ever get," Koch said.
Konerko said: "It was a freaky thing, but I'll take it."
Reichert said he was trying to pitch Konerko inside.
"It sank a little too much and ran in and got him," Reichert said.
Rick White (1-1) got the last out of the eighth for the win. Damaso Marte got two outs in the ninth for his seventh save.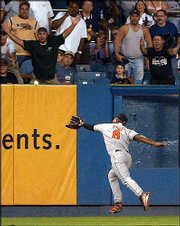 Toronto starter Roy Halladay was trying for his 15th straight win, but left after allowing four runs in six innings and in line for his first loss since April 15.
But Vernon Wells bailed him out with a two-run homer off Mark Buehrle in the seventh inning.
Yankees 4, Orioles 2
New York -- Andy Pettitte tied a career high by winning his seventh straight decision as New York stopped Baltimore's six-game winning streak.
Pettitte (12-6) improved to 16-4 against the Orioles and handed them their first loss since the All-Star break, allowing one run and four hits in seven innings.
Hideki Matsui hit a go-ahead single in a three-run sixth off Rick Helling (6-7), and Raul Mondesi homered to lead off the seventh.
Red Sox 10, Devil Rays 4
Boston -- Trot Nixon homered twice, including a grand slam in a seven-run seventh. Nixon went 3-for-4 and tied his career high with five RBIs.
Tim Wakefield (7-5) allowed four runs and six hits in seven innings. He gave up solo homers to Travis Lee and Toby Hall in the seventh, falling behind 4-3 before Boston rallied for its fifth straight win overall and 15th in 17 games in Fenway Park.
Scott Sauerbeck, acquired Tuesday from Pittsburgh, pitched a scoreless eighth in his Red Sox debut.
Doug Mirabelli opened the seventh with an infield hit against Travis Harper (1-6), and Johnny Damon homered over the right-field foul pole for a 5-4 lead.
Indians 4, Tigers 1
Cleveland -- Brian Anderson (8-7) allowed one run and five hits in seven innings, improving to 4-0 as Cleveland stopped a seven-game losing streak. David Riske and Danys Baez each pitched an inning of hitless relief, with Baez getting his 22nd save. The 2-hour, 4-minute game was the fastest in the history of Jacobs Field, which opened in 1994. Travis Hafner homered off Matt Roney (1-5). Cleveland won for the first time since the All-Star break and is 9-2 against the Tigers this season. Detroit has lost six in a row and is on pace to lose 119 games.
Rangers 12, Angels 9
Arlington, Texas -- Shane Spencer, who had been 0-for-10 since Cleveland traded him last week, hit his first homer for Texas and drove in four runs as the Rangers rallied from a 4-0, first-inning deficit. Alex Rodriguez also homered for the Rangers, and Doug Glanville had two RBI singles among his four hits. Erasmo Ramirez (1-0) pitched 22/3 shutout innings in relief for his first career victory, and Francisco Cordero pitched the ninth for his third save. Jarrod Washburn (8-10), who gave up a career-worst 10 earned runs in 3 1/3 innings, his shortest start this season.
Mariners 6, Athletics 0
Seattle -- Ryan Franklin pitched a two-hitter and Seattle capitalized on six walks by Barry Zito to beat Oakland. Randy Winn hit a solo home run and John Olerud drove in four runs for the Mariners, who stretched their lead over Oakland in the AL West to five games. Franklin (7-8) threw 121 pitches -- 71 strikes -- and faced four batters above the minimum for his first complete game. His previous high was 8 1/3 innings Sept. 17 against Texas.
Copyright 2018 The Associated Press. All rights reserved. This material may not be published, broadcast, rewritten or redistributed. We strive to uphold our values for every story published.