This is a transcript of remarks made Tuesday by President Carter at the dedication of the Dole Institute of Politics. According to the Carter Center, Carter rarely speaks from prepared remarks, and Tuesday's speech was extemporaneous:
Well, I have come here today to pay my deep respect and express my friendship to Bob Dole, and also to George McGovern, who has already been identified by Tom as a political adversary of Bob. I have to say I was on the McGovern side on most issues during the time, but my respect for Bob Dole as a leader, as a hero during peace and wartime, has never been shaken.
Today is a special day, I think, not only for Bob Dole and Elizabeth and those who care for him here in Kansas, but also for our entire nation. Last night we honored Rudolph Giuliani, who was a symbol of leadership after the 9-11 attacks in New York. This was, perhaps, the most traumatic experience for our country since the Japanese attacked our nation in December of 1941, and I think it brought to us the realization of the fact that Americans are inherently inclined toward public service in times of crisis. We've already recognized the heroic winners of the Medal of Honor, who have brought credit to themselves and to the entire nation in many ways, as the heroes of the second world war, which Tom Brokaw has identified as the world's "Greatest Generation." I'm not sure I agree with Tom Brokaw, but I'll get to that in just a few minutes.
The fact is that in a time of crisis, people do respond. We've mentioned political service; we've mentioned military service. My mother, after my father died, decided she wanted to serve our country. She was in the Peace Corps in India when she was 70 years old, and more recently, her great-grandson, my grandson Jason, has completed his service in the Peace Corps in South Africa. So there are many ways we can serve our country.
I think every human being, not just American citizens, strives for some way to demonstrate excellence in our lives, the utmost achievement in the one life on Earth, as far as we know, that God gives us. We try to emulate great people who have been mentioned this morning. If we have religious beliefs, we try to apply those religious beliefs in our own life. I happen to be a Christian. My goal in life is to strive to emulate my Savior, who epitomizes human life in his commitment to peace, humility, service, forgiveness, compassion and sacrificial love. Most people would agree that those are great human attributes.
The theologian Reinhold Niebuhr said that a nation cannot adopt all those attributes. And the one he concentrated on was sacrificial love. We cannot expect a nation, representing 250 or 300 million people, to exhibit sacrificial love. But the other aspects of life that personify the great aspects of people also personify a great nation.
Here at the Dole Institute there will be an opportunity, equally offered, for the frank discussion of important issues that affect our country. In coming here, all of us have looked back on past history, from the Founding Fathers, from George Washington, Thomas Jefferson, Abraham Lincoln, Theodore Roosevelt, Franklin Roosevelt, Dwight Eisenhower and others.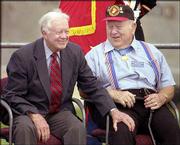 And now we are at a time of assessing some of the changes taking place in our country. None of them would ever have contemplated so called "pre-emptive war" unless there was a very clear, proven and direct threat to the security of our nation. In fact, when Thomas Jefferson left office, he said that the greatest achievement in his term of office was the fact that the United States of America had not engaged in military action against any enemy because we had resolved our problems and met our challenges through peaceful means.
More people have been concerned lately about the so-called Patriot Act, designed with very good intentions to deal with the threat of terrorism in our own country. I'll just say this is a potential threat to civil liberties, reminding us of McCarthyism in the early '50s.
There will always be intense public debates as new ideas are put forward and new challenges come to our country. That's part of American life. And that's part of patriotism, to be able and willing, as individual citizens, to engage ourselves in shaping, through our elected leaders, the inherent characteristics of a great nation.
Ours is the greatest nation. And I don't think there is any doubt that the principles that describe a great nation are justice, truth, peace, freedom, democracy, civil and human rights, protection of the quality of the environment and alleviation of the suffering of others.
Tom Brokaw has identified my generation, because of my age, as the "Greatest Generation." I'm not sure. We did fight in an enormous war combat when our country was directly attacked, but maybe the greatest generation has been the ones who have preserved peace and have demonstrated the other attributes of a nation, in addition to its military prowess. History will ultimately judge.
But I'm very proud to be here at the Dole Institute, which Bob Dole, through his own personal heroism and his own commitment to our nation's security and integrity, has been willing to implant a place for the open and free debates in a free society in a nation, at least, regardless of generations, a nation that will always be the greatest. Thank you.
Copyright 2018 The Lawrence Journal-World. All rights reserved. This material may not be published, broadcast, rewritten or redistributed. We strive to uphold our values for every story published.