It's being called the miracle on Ohio Street.
A year ago Tony Backus and his wife, Serina Hearn, purchased a 105-year-old house at 1121 Ohio -- a house many thought would have been better off demolished.
Today, the three-story house, completely refurbished, has started its second life. The couple celebrated with an open house Sunday afternoon.
"I can't believe it," said Ken White, a structural engineer, as he walked through the house while shaking his head in amazement. White had been asked by Backus and Hearn to examine the house before they began work on it.
"It wasn't habitable," White said, recalling what he saw during that examination. "No, it was worse than that."
White said he thought the house was so bad it should have been demolished. Now he has a different view.
"Basically it looks like it was disassembled and put back together again," White said.
Backus and Hearn said they paid $130 for the property, but they said they didn't want to even hazard a guess about how much they spent repairing the house, which was featured in an October 2002 Journal-World article.
The house is two blocks from where Kansas University tore down a row of decaying old houses that some thought should be renovated.
When Backus and Hearn took over their home, they found it inhabited by poor people just "barely above street level" and some who may have been mentally ill, Hearn said.
Once those people were moved out and work began, they found numerous surprises, such as hidden doors and fireplaces that had been walled over. A trap door led to one upper-floor room where someone had been living.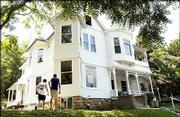 They also found cockroaches everywhere, including inside refrigerators and stoves.
"We had our doubts about it," Backus said. "We kept lifting each other up. When she thought it couldn't be done, I felt like it could. Then I'd get down. We talked each other into it."
Wooden door frames, floors and fireplaces were refinished where possible. A second-floor balcony that had been too dangerous to use was restored. One room became a European bathroom, with an open floor plan that incorporates a shower.
"We tried to save everything we could," Hearn said.
A steady stream of visitors walked through the house Sunday, including Sam Fields, who recalled living in a first-floor apartment in the house for about 13 years starting in 1989. He also managed the house for the owner at the time. It was in bad shape then, he said.
"They've done a miraculous job," Fields said, as he stood in the area where his apartment had been. "I would never have believed this was possible."
Backus and Hearn are going to rent the house to carefully selected Kansas University students.
They said they took on the project because they wanted to let people know that it was possible to save old houses and preserve historical integrity.
They hope the newly rehabilitated home lasts another 100 years.
"This house connects me to Lawrence's past and it connects me to the future," Hearn said. "When I'm long dead, I hope it is still here."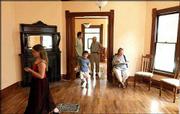 Copyright 2018 The Lawrence Journal-World. All rights reserved. This material may not be published, broadcast, rewritten or redistributed. We strive to uphold our values for every story published.