Brian Clyne beams during a tour of Seabury Academy's new school and gym at the old Alvamar Racquet and Swim Club on Clinton Parkway.
And why not?
The gym is an expansive, beautiful facility that lets the Clyne, the Seabury athletic director, forget the tiny, dark room the Seahawks were forced to use at the old Kaw Valley School east of Lawrence.
In fact, one might think the place is Clyne's baby, so to speak.
"I've been getting a lot of ribbing that since my office is right there, they pity the first kid that walks in with black-soled shoes," he said.
Clyne might not be kidding.
The playing floor itself is 96 feet by 95 feet, but the total area is just over 10,000 square feet. That dwarfs the old gym, which wasn't even half that size.
The floating maple floor had some finishing touches put on Saturday and Sunday as Bob Huggins, an Olathe painter, detailed a Seahawk logo at center court. It gives the place a feel Clyne eagerly has been awaiting since he joined the school at its inception six years ago.
"This is great," he said. "It's finally the gym we wanted."
The $80,000 floor is the most obvious fixture of the athletic department at Seabury, which had been forced to use the East Lawrence Recreation Center because the school's old gym simply was too small.
Now, the volleyball and basketball teams don't have to travel to an off-site gym -- a huge plus for new volleyball coach Craig Friedrichsen.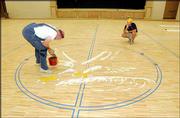 Friedrichsen, who also has coached at Topeka Seaman, said the gym's high, sloped ceiling and ample playing room were perfect for volleyball.
"Oh, absolutely," he said. "It'll be a tremendous facility. It's got good lighting and is a real good size for a small school."
If there's a downside, Clyne said, the school could use more seating. Crews will install bleachers on just one side of the gym because the auditorium stage is on the other side. That means the Seahawks likely won't host any sub-state volleyball or basketball tournaments.
"I wanted to do more," Clyne said. "Best case scenario right now is somewhere close to 400 -- and the KSHSAA's cut off is 1,000."
Now the hardest part is waiting to use it.
After lacquer is applied sometime this week, the floor won't be used for about 30 days to let it settle and allow the lacquer to take hold. By then, the Seahawks will be about a week into fall practices, but it's a small price to pay.
By the time the first volleyball game begins Sept. 5, Clyne anticipates floor demand will have shot into high gear.
But that's OK. He wants his baby to be loved.
"Believe me," Clyne said. "Once people see this place, they'll want to use it all the time."
Copyright 2018 The Lawrence Journal-World. All rights reserved. This material may not be published, broadcast, rewritten or redistributed. We strive to uphold our values for every story published.