Swimming in sweat in a 100-plus-degree room while straining through a workout is apropos for wrestlers, not so much, however, for your average exerciser.
That said, Hot Yoga, or Bikram Yoga, is drawing fans who want to bump up their regular yoga routine, in this case by cranking up the thermostat.
Bikram Choudhury, who operates Yoga College of India in Beverly Hills, Calif., began this newish twist on a very old method of exercise, earning both praise and criticism.
Hot Yoga incorporates traditional though advanced yoga movements in a room heated to 110 degrees or more.
The trendsetter for Hot Yoga in Memphis, Tenn., is Dee Victoria, who operates the Edge yoga studio. Her Hot Yoga classes differ from Bikram's for proprietary reasons (Bikram copyrighted his name), and because of Victoria's personal preference.
"I believe people need more than 26 poses," Victoria said, referring to the set pattern of Bikram's workout. "Each class is a little different, and emphasizes a lot of upper body strength and joint mobility in addition to a firm foundation of rhythmic nose breathing."
Her class gets to about 100 degrees, which is why she advises participants to "superhydrate" beforehand and have a working knowledge of traditional yoga poses, preferably as a result of taking several beginner classes.
Before class, Victoria asks new students about their medical history to avoid potential problems with the poses.
In a warmer room, there should be more flexibility, more sweat, hence more weight loss and more meditative calm -- all of which makes it much more physically challenging.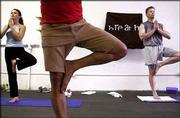 "It's definitely for certain types of people," she said, "but you can say that for anything. At different places in a person's life, there are things that are going to be a better fit for them. I'm not aiming for somebody who's sedentary. That's why I have it as an intermediate class, because you need to have a fair sense of your body's limitations and also be able to communicate that to me as well as your expectations."
Victoria doesn't profess the amazing benefits about her classes that Choudhury does about his. He and his adherents contend their Bikram Yoga helps ailments such as anemia, insulin regulation and varicose veins; that has some health professionals advising caution.
"I wouldn't be all too excited about prolonged exposure to heat stress," said Dr. Karl Weber, director of the cardiovascular diseases division at the University of Tennessee Health Science Center in Memphis.
You don't need to have any experience with yoga prior to trying Bikram's yoga, according to Elizabeth Marshall, director and owner of Bikram's Yoga College of India, 711 W. 23rd St.All you have to do is show up for one of the 16 classes offered each week at the studio. Each session lasts 90 minutes.Bikram's Yoga College of India offers a special, introductory package for new students: two weeks of unlimited classes for $35. A single class costs $15, and there are packages offered for one month, three months and one year.For more information, contact the studio at 832-9642. To learn more about Bikram's yoga, visit the Web site at www.bikramyoga.com.
"There is some data that relates (using) saunas to heart failure," he said, pointing out that the practice could be detrimental for someone whose heart doesn't work properly.
Bikram Yoga and Power Yoga, the other new high-intensity yoga gaining popularity, represent a trend toward more vigorous, or Americanized, forms of the Eastern exercise.
Some yoga practitioners are unsettled by Hot Yoga's premise. They worry programs that stress fitness may push people seeking an aerobic workout into overstretching and injury. Others are fine with it, though, even if they're not personally into the practice.
Researchers report yoga can benefit people with asthma, arthritis and high blood pressure. For inactive people, stretching can improve fitness, according to a Hahnemann University (Philadelphia) study published in the Journal of the American Medical Assn. The study showed that the formal Iyengar style of yoga helped with repetitive stress injuries.
"As a practice, yoga stimulates every part of your body," Victoria said. "Obviously, certain people are more receptive (to the extra heat.) If you have certain things going on in your body, heat will help, but with some, it won't."
Copyright 2018 The Lawrence Journal-World. All rights reserved. This material may not be published, broadcast, rewritten or redistributed. We strive to uphold our values for every story published.