Salzburg, Austria — "Do! A deer! A female deer!"
My knuckles whiten from my death grip on the tour bus handrail as my mostly elderly American and Japanese co-passengers launch into a gleeful singalong.
"Re! A drop of golden sun!"
Groan. Thank goodness the coach vendor is selling cold beers. I flag him down like a New Yorker hailing a cab in Lower Manhattan at rush hour.
"Mi! A name I call myself! Fa! A long, long way to run ..."
And a long, long way back to Vienna, I'm thinking, if I bail at the next stop on "The Sound of Music" tour.
But then it gets interesting.
For instance, did you know that Christopher Plummer, who played Capt. von Trapp in the 1965 classic filmed in and around this scenic alpine city, so disliked the script that for years he called it "The Sound of Mucus"?
Or that Julie Andrews, starring as Maria von Trapp, lost her temper while doing the cheery opening scene in a mountain meadow because she had trouble standing in the strong downdrafts whipped up by the helicopter filming her?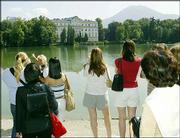 Or that if the real-life von Trapp family members had made their escape over the peaks depicted in the movie, they would have ended up not in Switzerland, which lies in the opposite direction, but in the heart of Nazi Germany and Hitler's infamous "Eagles' Nest" retreat?
Those and other nuggets await on various tours that will take you to locations where the Academy Award-winning classic was made -- and through some of Austria's most breathtaking scenery.
More than the movie
If you're a "Sound of Music" groupie like my wife, who knows the lyrics to "My Favorite Things," "Edelweiss" and all the rest, you'll thrill to sights like the downtown Salzburg gazebo where Liesl dances and sings "Sixteen Going on Seventeen."
If you're ambivalent about the film, like I and my two teenagers are, you'll find plenty of entertainment in all the myths, misnomers and sheer mania surrounding the movie.
Oddly enough, most Austrians don't have a clue about "The Sound of Music" or its cult following in the United States because the movie wasn't dubbed into German or widely distributed here.
Never mind that the opening scene actually was shot over the border in Bavaria. The best things about the postcard-perfect province of Salzburg are the drop-dead gorgeous alpine vistas and panoramic views.
There's plenty to see and do if you stay in the city of Salzburg itself. Touring the house where Mozart was born is a must. So is wandering Salzburg's delightful parks and cobblestoned pedestrian shopping streets, and sampling the city's lively outdoor cafes and gourmet restaurants serving up fresh local game.
We chose to rent a two-bedroom farmhouse apartment on a working dairy near Bischofshofen, a town about an hour's drive outside Salzburg. The sweeping views were magnificent, and the farm had the added attraction of horseback riding (for my 13-year-old daughter) and trout fishing (for me).
There are ice caves to explore, the medieval Hohenwerfen fortress featuring a spectacular falconry demonstration, and numerous other attractions within an hour's drive.
Spilling the beans
Several companies and small private operators offer "Sound of Music" tours in English. We opted for one run by Panorama Tours that lasts about four hours and takes in key locations, beginning with the lakeside castle where many scenes were filmed.
This is where the film's first myth is exposed: The exterior garden scenes at Capt. von Trapp's sprawling mansion actually involved several locations, and all of the interior shots were filmed in a Hollywood studio.
It doesn't take long for the tour guide to start spilling the beans about what went on behind the scenes.
Plummer figures prominently in the more irreverent anecdotes. Turns out he didn't much care for the seven child actors who starred in the film -- not even for the youngest, the adorably chubby 5-year-old Gretl, who was played by Kym Karath.
"I'm not carrying that bloody fat kid," Plummer told director Robert Wise during filming on the von Trapp family's escape scene. Wise ended up finding a lighter child as a double for the scene.
The producer got flustered when Andrews had a hard time singing and playing guitar at the same time for the "Do-Re-Mi" scene. A typical Austrian solution -- a belly-burning shot of schnapps -- did the trick.
But that's not all. The hills are alive with plenty more.
Copyright 2018 The Associated Press. All rights reserved. This material may not be published, broadcast, rewritten or redistributed. We strive to uphold our values for every story published.