San Diego — The Arizona Diamondbacks couldn't have had a better start to the second half.
Curt Schilling pitched seven strong innings to win for the first time since returning from the disabled list and the Diamondbacks routed the last-place San Diego Padres, 9-1, Thursday.
Schilling said he still has work to do after his six-week layoff with a broken right hand, but his manager was impressed.
"This was a real good step in the right direction," said Bob Brenly, who will begin serving a two-game suspension Friday night for throwing a ball into the stands in Phoenix last week.
Former Padre Steve Finley hit a three-run homer in the first inning to start the Diamondbacks' scoring barrage. Finley had three hits and Luis Gonzalez three runs.
Arizona, which started the day five games behind NL West leader San Francisco, won for the 20th time in 26 games. And the Diamondbacks could get Randy Johnson back Sunday following a 2 1/2-month layoff.
Schilling (5-4) allowed just one run -- unearned because of his error -- and eight hits, struck out eight and walked one in his second start since coming off the DL.
He missed six weeks after a line drive by San Diego's Sean Burroughs hit him on the back of the right hand here on May 30, breaking two bones. He had been hit on the right index finger by Ramon Vazquez's comebacker on his first pitch of that game.
Schilling returned Saturday but lost 8-1 to the San Francisco Giants, allowing a 448-foot home run to Barry Bonds.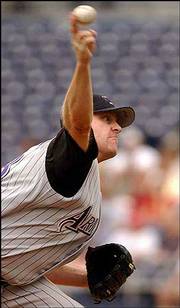 Dodgers 6, Cardinals 3
Los Angeles -- Hideo Nomo pitched six strong innings and added a two-run homer and an RBI double, leading Los Angeles past St. Louis. Nomo (10-8) limited the Cardinals to two hits and one unearned run while walking four and striking out five. The extra-base hits were the first this season by Nomo, as were the RBIs. Nomo, who entered with five singles in 41 at-bats, had never driven in multiple runs in a game.
Astros 5, Reds 4
Cincinnati -- Ken Griffey Jr. ruptered a tendon in his right foot as Cincinnati lost to Houston, which stopped a six-game road losing streak. Griffey will be lost for the season. Geoff Blum hit a two-run single that capped a five-run second inning for NL Central-leading Houston. Rookie left-hander Jeriome Robertson (9-3) won his fifth consecutive start and eighth straight decision.
Phillies 5, Expos 2 (11)
Philadelphia -- Marlon Byrd's two-out, three-run homer in the 11th inning led Philadelphia past Montreal. The Phillies, who lead the NL wild-card race, have won six of seven. Montreal has lost eight of 10.
Braves 3, Mets 2
Atlanta -- Mark DeRosa's check-swing infield single in the ninth inning scored Vinny Castilla from third and gave Greg Maddux and Atlanta a victory over New York. With the Mets playing their first game without closer Armando Benitez, the Braves loaded the bases with one out against John Franco (0-2). DeRosa then hit a dribbler to second baseman Joe McEwing, who couldn't come up with the ball as Castilla scored the winning run.
Giants 8, Rockies 4
San Francisco -- Edgardo Alfonzo had three hits and drove in two runs and Rich Aurilia had two RBIs and doubled twice, leading San Francisco past Colorado. Damian Moss (8-6) won for the first time in five starts and the NL West-leading Giants got their sixth victory in nine games. Colorado's Todd Helton went 4-for-5 with two doubles and two RBIs to extend his hitting streak to 11 games.
Brewers 7, Pirates 5
Pittsburgh -- John Vander Wal's third grand slam this season helped open a seven-run lead, and Milwaukee overcame Craig Wilson's pinch-hit slam to hold off Pittsburgh.
Copyright 2018 The Associated Press. All rights reserved. This material may not be published, broadcast, rewritten or redistributed. We strive to uphold our values for every story published.