Topeka — Backed by one of the nation's biggest critics of the use of mercury in childhood vaccines, a group of Kansas parents on Thursday met with Atty. Gen. Phill Kline, seeking help from the state in getting compensation from pharmaceutical companies.
"This is a bigger epidemic than 9-11 and AIDs, and no one knows about it," Dr. Mark Geier, a geneticist who has been sounding the alarm about the dangers of thimerosal, a mercury compound that has been used for decades in vaccines.
Geier and a growing number of scientists and parents are blaming the skyrocketing incidence of autism and other neurological disorders on the presence of thimerosal in vaccinations given to children.
And they want the companies that put thimerosal in the vaccines to pay the state for the cost of treatment and care for the mercury-damaged children.
Linda Weinmaster of Lawrence has an 11-year-old son, Adam, who is autistic. Weinmaster said she believed Adam's disorder was caused by a Rogam injection she received while she was pregnant.
"We want the kids taken care of when we're gone, and we don't want any more kids damaged by this," Weinmaster said. "This is the biggest cover-up in medical history."
Geier said autism was an epidemic, increasing 714 percent nationally since 1992-93, and 904 percent in Kansas, according to government figures.
He said health care for these children would cost $2 trillion over their lifetimes, including $10 billion in Kansas. "If this is allowed to continue, you will not recognize our society in 20 years. We'll be like a Third World nation," he said.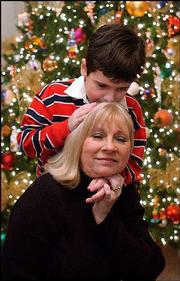 Eli Lilly & Co., which had been the main manufacturer of thimerosal, denied any connection between the compound and autism.
"There is no scientific, credible, causal link established between thimerosal and autism," said Eli Lilly's Rob Smith. "We need to let the science guide us. We don't support politicians and trial lawyers demagoging the issue."
Smith said one reason for the dramatic increase in autism may be improved methods of diagnosing the condition.
But Geier rejected that statement.
He said numerous studies showed that the increase in autism was real. "Anyone who denies the existence of an epidemic is totally out of left field," he said.
The parents of children with autism who met with Kline said they wanted him and other attorneys general to join in a lawsuit against the pharmaceutical companies, in much the same way that attorneys general sued big tobacco companies that resulted in a $246 billion national settlement.
Their meeting was scheduled to last one hour, but went three hours; Kline attended for about an hour.
He said he was interested in the information and wanted to discuss it further with his assistants before deciding what course to take.
Weinmaster said she was happy with how the meeting went. "They (Kline's assistants) said it was well worth their time. That's pretty positive," she said.
Next week, a group of scientists, physicians and parents of autistic children will travel to Washington, D.C., urging President Bush to hold a conference on the increase in autism. Weinmaster and another Lawrence resident, Bobbie Manning, whose son is autistic, will attend.
"These kids are being damaged and the taxpayers cannot afford this anymore," Weinmaster said.
A provision in the Homeland Security bill originally shielded Eli Lilly from lawsuits brought by parents of autistic children. Congress repealed that provision earlier this year.
Copyright 2018 The Lawrence Journal-World. All rights reserved. This material may not be published, broadcast, rewritten or redistributed. We strive to uphold our values for every story published.