Bob Dole's face is no stranger to NBC's "Today," C-SPAN's "Washington Journal" or any of the dozens of other national news programs that bring the world of Washington, D.C., into living rooms across the country.
Now the former senator's political archive, and its often sleepy hometown, is about to get the same big-media treatment.
"It'll be a national event," said Richard Norton Smith, director of the Dole Institute of Politics. "We know the 'Today' show will be here. We know that C-SPAN will be here for two, maybe three days. We've heard from the other networks as well, as well as the cable networks. And, of course, all the print media will be here.
"It's a great introduction for us, but equally -- if not more important, I think -- it's a fantastic and almost unique opportunity for Lawrence and for KU."
Dozens of national media are expected to converge on the city to cover events surrounding Tuesday's dedication of the Dole Institute, just completed on a hillside on Kansas University's west campus.
The list of events, attractions and prominent storylines is long. Former Presidents Gerald Ford and Jimmy Carter are scheduled to show up. So is NBC News anchor Tom Brokaw, author of "The Greatest Generation."
KU graduate
And then there's Sarah Clagett, a "Today" show producer and KU graduate who will have plenty of work to do when she arrives in town Saturday.
"I'm looking forward to it," said Clagett, who graduated in 1996 with a degree in broadcast journalism. "Things in Lawrence have definitely changed. It will be good bringing the 'Today' show to Lawrence, where I spent four years of my life."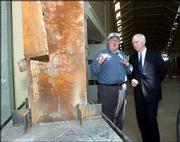 But don't go looking for Katie Couric, Matt Lauer or Al Roker on Crestline Drive. Instead, Clagett will start her reports when the show goes on the air at 7 a.m. New York time, which will be 6 a.m. in Lawrence.
The three-hour show will be over at 9 a.m. Lawrence time, although viewers here will be watching it as if it were live. The tape-delayed "Today" runs from 7 a.m. to 10 a.m. on Sunflower Broadband channels 8 and 14.
Elsewhere on TV, C-SPAN CEO and founder Brian Lamb will serve as host for "Washington Journal," live from the Dole Institute from 6 a.m. to 9 a.m. Monday. The show -- to be shown either on C-SPAN, Sunflower Broadband Channel 27, or C-SPAN2, Sunflower Broadband Channel 28 -- is scheduled to include a live interview with Smith and, possibly, Dole himself.
The dedication ceremony also will be shown live, from 10:30 a.m. to 11:40 a.m. Tuesday, on one of the C-SPAN channels.
"It's definitely a national event," said Robin Scullin, a C-SPAN spokeswoman.
A scholarship for disabled students has been established in Dole's honor at the United Negro College Fund.
KU officials are tickled to be the focus of so much attention.
Achievement and honor
While much of KU's national exposure involves the men's basketball team -- going to consecutive Final Fours will do that -- the Dole Institute will offer another glimpse of Mount Oread and Lawrence.
"Anytime we can attract national attention to prestigious events -- like the NCAA Final Four or this dedication -- it is a positive for the university," said Todd Cohen, a KU spokesman. "These kind of events are about success, and achievement, and honor, so they reflect accordingly on the university. ...
"There is a tendency for the national media to view Kansas stereotypically, so any time we can get the national media to come here and see Kansas for themselves, there is that wonderful element of discovery. Like a beautiful campus on a hill. A major research university. A vibrant, diverse urban arts community. It makes people willing to consider coming here or sending their kids to college here."
Cohen is counting on getting the message across during the Dole Institute events.
"It opens a lot of doors."
Lawrence hasn't always escaped the glare of national news. A few events that made headlines:1988: Kansas University men's basketball team wins NCAA championship.1983: Lawrence serves as setting for "The Day After," an ABC made-for-TV movie about the imagined aftermath of nuclear war.1968: Robert F. Kennedy makes presidential campaign stop at KU.1910: Former President Teddy Roosevelt dedicates a horse fountain downtown.1863: William Quantrill leads a raid on Lawrence, killing dozens and burning the town to show his opposition to the community's anti-slavery stance.
Copyright 2018 The Lawrence Journal-World. All rights reserved. This material may not be published, broadcast, rewritten or redistributed. We strive to uphold our values for every story published.