Washington — The Washington Mystics finally have a winning streak.
Chamique Holdsclaw scored 24 points and Stacey Dales-Schuman added 18 as the Washington Mystics won their second straight game with a 68-60 victory over the Charlotte Sting Thursday.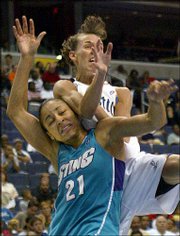 Washington (4-14) has won two straight for the first time this season, while Charlotte had its four-game winning streak snapped. Two of Washington's wins this season have come against Charlotte (12-7), which entered the game atop the Eastern Conference.
"It means a big deal to us," Dales-Schuman said. "This is a very good Charlotte team, and if we can play with a team like Charlotte then we can play with anybody."
Dales-Schuman made three 3-pointers during a 20-2 run that gave Washington a 58-45 lead with under six minutes left.
"Since the first game, we've been waiting for her to break out again," Washington coach Marianne Stanley said. "People kept feeding her, and she kept making shots."
Seattle 67, Connecticut 65
Uncasville, Conn. -- Lauren Jackson scored 20 points, including the game-winning layup with 3.5 seconds left, as Seattle beat Connecticut.
Rockers 70, Lynx 61
Cleveland -- Penny Taylor scored 16 points to lead Cleveland past Minnesota, snapping the Lynx's three-game winning streak.
Monarchs 62, Silver Stars 60
San Antonio -- Lady Grooms hit a jumper -- her only basket of the game -- as time expired to push Sacramento past San Antonio.
Yolanda Griffith led the Monarchs with 17 points, and Lawson and DeMya Walker added 10 points apiece. Grooms finished with 2 points.
Copyright 2017 The Associated Press. All rights reserved. This material may not be published, broadcast, rewritten or redistributed. We strive to uphold our values for every story published.