Milwaukee — Midwest Airlines averted the bankruptcy fate of several industry rivals as employees and creditors consented to concessions the company demanded.
Midwest can now pursue new financing after lenders allowed the airline to restructure $60 million to $70 million in debt, Midwest senior vice president and general counsel Carol Skornicka said late Wednesday.
"We are definitely out of the woods in a major, major part of re-establishing our profitability for the future," she said.
Executives of parent Midwest Express Holdings Inc. said last month the company would be forced to file for Chapter 11 bankruptcy without concessions from the labor unions and 11 aircraft lessors. Like most airlines, Midwest has struggled because of a drop in tourism since the 2001 terrorist attacks and a generally weak economy for air travel, especially among higher-paying business customers.
Midwest earned its reputation catering to business travelers looking for extra comforts. But in May the company said it would follow the lead of competitors and launch a low-fare service this summer to cater to vacationers seeking lower fares.
The airline, which is based in Oak Creek, Wis., sought $600,000 in monthly savings from employees through a combination of wage reductions, work rule changes or productivity improvements.
Two pilots groups and the flight attendants' union approved packages of concessions Tuesday. The airline's mechanics and ground crew aren't unionized.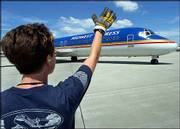 Copyright 2018 The Lawrence Journal-World. All rights reserved. This material may not be published, broadcast, rewritten or redistributed. We strive to uphold our values for every story published.