Kansas City, Mo — Jose Lima said he left Thursday night's game in the sixth inning because he didn't want to try to be a hero.
Why risk what has become an amazing comeback story?
Lima won his sixth straight start but left because of a groin injury as the Kansas City Royals beat the Seattle Mariners, 7-1. He allowed five hits in 51/3 innings, striking out five, walking two and hitting a batter. Lima (6-0) lowered his ERA to 2.41 as the AL Central-leading Royals improved to 7-0 in his starts.
"It would be stupid to stay on the mound with an injured groin and then be out three weeks," Lima said. "I've never been hurt before and I don't want to take chances."
The Royals started the second half of the season the way they started the first. Kansas City opened 2003 with nine straight victories on the way to a 16-3 start.
But the mood in the locker room was tempered by the injury to Lima.
"He felt something in his right leg," Kansas City manager Tony Pena said. "It's between his hamstring and thigh, on the inside of his leg."
With a runner on first in the sixth, Lima bent over in pain after a pitch to Randy Winn. Jason Grimsley relieved.
"I don't want be a hero and hurt myself," Lima said. "This team needs me in the rotation."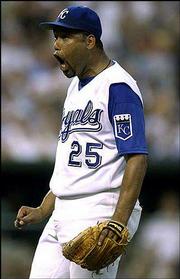 Lima was hopeful that coming out right away would prevent a long delay before his next start.
"I hope not," he said. "I have to remain positive. At least I walked pretty good off the mound. I'm not limping."
Freddy Garcia (9-9) gave up six runs and eight hits in five-plus innings. Seattle, which tops the AL West, has scored 20 runs in his nine losses.
Angel Berroa had two hits and two RBIs, including a home run.
There were three ejections in the game. Kansas City's Ken Harvey was ejected in the sixth inning by first base umpire Paul Emmel, who ruled the first baseman was off the bag as the Royals attempted to complete a double play on Willie Bloomquist's grounder to shortstop.
After Dan Wilson's single that drove in the Mariners' only run, Harvey said he told Emmel, "That was your run; you cost our team a run."
Emmel then ejected him.
"I'm not trying to dog him," Harvey said. "He's behind the plate tomorrow and I would like to get some type of calls."
Seattle manager Bob Melvin was ejected in the bottom of the eighth by plate umpire Joe West after Carlos Febles was hit for the second time in the game. Seattle pitcher Rafael Soriano was also tossed.
The Royals' Aaron Guiel was hit in the fifth inning by Garcia, and Febles was hit by Aaron Taylor in the sixth. Ichiro Suzuki was hit in the first for Seattle.
Ibanez put the Royals ahead with a two-run double in the third. Bret Boone tripled leading off the fourth but was stranded. Berroa homered in the fourth for a 3-0 lead.
Dan Wilson hit an RBI single in the sixth for Seattle, but Kansas City scored four in the bottom half on four straight hits and a wild pitch. Michael Tucker chased Garcia with an run-scoring double, and Taylor gave up RBI singles to Berroa and Brent Mayne, then threw a run-scoring wild pitch.
Notes: Ichiro stole second base in the first inning, his AL-leading 26th steal. ... Berroa became the 16th rookie shortstop in major-league history to hit 10 home runs in a season. ... The Royals have won their last 36 games when allowing three runs or fewer, including 32 this season. ... Ibanez is 26-for-72 (.361) against his former team, including 9-for-22 (.409) this season. Ibanez played for the Mariners from 1996-2000.
Copyright 2018 The Associated Press. All rights reserved. This material may not be published, broadcast, rewritten or redistributed. We strive to uphold our values for every story published.