Steven Stepaniak can't help but feel patriotic when he looks at the stained-glass window adorning the entrance of the Dole Institute of Politics.
"With everything we've experienced the last two years, this is such a great symbol of our country," said Stepaniak, owner of Stained Glass Overlay in Roseville, Minn. "You can't help but feel some sense of dedication to the United States. It's very awe-inspiring."
Stepaniak's company constructed and installed the 960-piece, 1-ton flag that soars 40 feet above the institute's floor.
Stepaniak said the red and blue colors in the flag were custom-made for the project and that most of the 960 pieces were hand-painted to add texture to the flag and make it look more like fabric. The sections were then soldered into 27 panels to make the flag.
"We're absolutely thrilled to death," Stepaniak said, looking up at the completed flag. "In the studio, the largest section we could put together was 8 feet by 8 feet, so it's exciting to see it all together."
He said the project was also special in that he didn't import stained glass from Europe.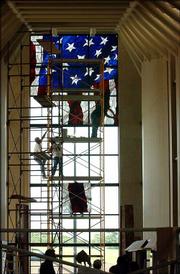 "Everything you're looking at is American-made, from the glass to the frame," he said. "We felt that was important for this project."
Stepaniak said his company did research on other large stained-glass flags and couldn't find one of comparable size from any country -- not just the United States. He said he planned to submit the flag to the Guinness Book of World Records.
Although the flag took about 1,600 man hours, Stepaniak said the largest project his company had completed was for a casino in Tunica, Miss., which had 850 panels.
The flag was paid for by a $200,000 donation from Forrest and Sally Hoglund, Kansas University alumni from Dallas. Dole himself paid for a similar, 22-foot-tall window depicting his hometown, Russell, and the Kansas prairie.
"You think you imagine what something this big will look like, but I don't know if you really can have an idea of how impressive it will be," said Richard Norton Smith, the institute's director. "It will be a real defining landmark for KU."
¢ 1991 - U.S. Sen. Bob Dole, R-Kan., solicits suggestions from universities for housing his political papers. Kansas University says it would establish a political institute in his name.¢ Spring 1996 - KU officials begin meeting to establish a proposal for a presidential library if Dole defeats Bill Clinton in the November election.¢ Late fall 1996 - KU Chancellor Robert Hemenway meets with Dole to say KU would establish a political institute to house his papers despite Dole's election loss.¢ April 1997 - KU formally announces formation of the Dole Institute for Public Service and Public Policy during a Dole statewide thank-you tour. Burdett Loomis, political science professor at KU, is appointed interim director.¢ Summer 1997 - About 4,000 boxes of Dole's papers arrive at KU's Spencer Research Library.¢ April 1998 - The Dole Institute puts on its first program, on U.S. trade status with China.¢ April 1998 - a state legislative conference committee agrees to appropriate $3 million to the Dole Institute building.¢ July 1998 - ASAI Architecture in Kansas City is selected to design the building.¢ October 1998 - Congress includes $6 million for the Dole Institute's archiving and programming in a spending bill.¢ July 1999 - Institute conducts its highest-profile seminar to date, "Civility and Deliberation in the United States Senate," in Washington, D.C.¢ April 2000 - Richard Norton Smith is named among slate of finalists for the director job.¢ June 2000 - KU officials announce they couldn't find the right person for the director job and re-open the search.¢ August 2001 - Smith hired as director, saying he didn't want to leave the Gerald R. Ford Museum and Foundation the previous year because of a fund-raising campaign.¢ October 2001 - Dole is among a cadre of officials who break ground on new institute building.¢ December 2001 - Smith starts his job at KU.¢ November 2002 - Institute kicks off new wave of public programming with lecture series featuring three presidential historians.¢ July 22, 2003 - Building is dedicated on Dole's 80th birthday.
Copyright 2018 The Lawrence Journal-World. All rights reserved. This material may not be published, broadcast, rewritten or redistributed. We strive to uphold our values for every story published.