Boston — Roy Halladay returned from the All-Star break the way he entered it -- with a blazing fastball, sharp control and a three-month unbeaten streak.
He won his 14th straight decision and allowed nine hits in his second complete game of the season as the Toronto Blue Jays beat the Boston Red Sox, 5-2, Thursday night.
"It's a nice number and after that it really doesn't mean much," he said of the streak. "If it ends, it ends. Fine."
It shouldn't end for a while if he keeps pitching the way he did Thursday. He struck out five, walked none and has allowed just one walk in 33 innings. He threw 116 pitches and fired a 94 mph fastball in the ninth.
"You pride yourself on going out and finishing it," Halladay said after the seventh complete game of his career. "There's something about the ninth inning and trying to close the game that's tough."
It seemed easy Thursday when he rebounded from a two-run seventh and retired the side in order in the eighth and ninth.
"Cy Young did a pretty good job against us out there," Boston manager Grady Little said. "He is on quite a roll."
Halladay's winning streak is the longest in the majors since Roger Clemens won 16 consecutive decisions for the New York Yankees in 2001. Clemens also has the Toronto club record of 15, set in 1998.
"He seems to get better every year," said Boston's Trot Nixon, who had three hits off Halladay. "He's throwing harder than in the past and he's throwing his pitches for strikes."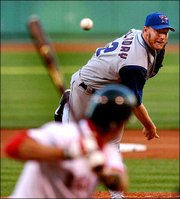 Halladay was 19-7 with a 2.93 ERA last season. This year, he leads the majors in wins and is unbeaten in 16 starts since losing to the New York Yankees April 15. He was selected for Tuesday's All-Star game but didn't pitch.
Boston starter Derek Lowe (10-4) had been unbeaten in 11 starts since a loss at Minnesota on May 11, but he allowed four runs in four innings, throwing 92 pitches.
"It wasn't very good. Rusty, like everybody," Lowe said.
Three runs scored on Reed Johnson's bases-loaded double in the fourth that made it 4-0. Bobby Kielty went 3-for-4 with a homer in his Toronto debut after being traded by Minnesota for Shannon Stewart Wednesday.
"It's nice to do something like that," Kielty said. "But, let's face it, baseball is an up-and-down game. I'm not going to do that every day."
Kielty singled and scored in both the second and fourth, then hit his 10th homer of the season on the first pitch of the sixth against Casey Fossum.
Boston made it 5-2 in the seventh on David Ortiz's 11th homer and Jason Varitek's RBI single, leaving runners at first and third with two outs. Halladay got out of the jam when Johnny Damon flied out to center, and Toronto went on to win for the fourth time in 16 games.
"He's a special pitcher," Toronto manager Carlos Tosca said. "He probably prepares both physically and mentally as well as anybody that I've ever been around."
Twins 6, Athletics 2
Minneapolis -- Torii Hunter and A.J. Pierzynski each drove in two runs and Rick Reed pitched seven solid innings as Minnesota ended an eight-game losing streak with a victory over Oakland. Jacque Jones went 3-for-5 in his return from the disabled list for Minnesota, which entered the All-Star break in third place in the AL Central.
Chris Singleton was 2-for-3 with an RBI for Oakland, which had a five-game winning streak snapped.
After losing 12 of their previous 13 games, the Twins found life against Oakland ace Tim Hudson (7-4), who had never before lost to Minnesota in the regular season.
New leadoff man Shannon Stewart, acquired from Toronto the day before, went 0-for-2 in the first inning. But his new teammates had six hits and five runs while the A's made three errors.
Hunter knocked in a run with a single, and Pierzynski drove in two with a bloop single to center.
Yankees 5, Indians 4
New York -- Hideki Matsui led off the ninth inning with a home run, giving New York a come-from-behind win over Cleveland. Matsui hit a 1-0 pitch from David Riske into the center-field bleachers. Derek Jeter hit a two-run homer in the eighth off Riske (2-2) to tie it 4-all.
Even with the new setup man Armando Benitez in the bullpen, manager Joe Torre stuck with what has worked for him since 1997 by bringing in closer Mariano Rivera (4-0) to work the ninth with the score tied.
Benitez, acquired from the Mets Wednesday in a trade for Jason Anderson and two prospects, was warming up in the bullpen when Matsui homered.
Orioles 2, Angels 1
Baltimore -- Rodrigo Lopez allowed five hits in seven innings and Jeff Conine homered as Baltimore beat Anaheim, ending the Angels' five-game winning streak. Luis Matos had two hits and an RBI for the Orioles, who improved to 5-1 against the defending world champions. Anaheim was 7-2 against Baltimore last year.
Lopez (3-5) allowed one run, struck out five and walked three. The right-hander is 2-1 with a 1.57 ERA in July after closing June with a 7.63 ERA.
Jorge Julio worked the ninth for his 19th save in 24 tries.
Rangers 12, Devil Rays 6
St. Petersburg, Fla. -- Juan Gonzalez went 3-for-5 with four RBIs to help Texas beat Tampa Bay. Gonzalez hit his 429th career homer, a three-run drive, and added a run-scoring double. Donnie Sadler and Marcus Thames also homered for the Rangers, who have won seven of their last 11.
John Thomson (7-9) allowed three runs and seven hits in 7 2/3 innings, striking out nine as he won his third straight decision.
Gonzalez made it 11-1 in the eighth with his 24th homer. He has a hit in 13 of his past 14 games.
Copyright 2018 The Associated Press. All rights reserved. This material may not be published, broadcast, rewritten or redistributed. We strive to uphold our values for every story published.