DETROIT — General Motors Corp.'s earnings fell 30 percent in the second quarter from a year ago, hurt by lower volume and pricing pressure, but the company is bullish on the prospects for the second half of 2003 and expects to hit its financial targets.
The world's biggest automaker said Thursday that it earned $901 million, or $1.58 a share, in the April-June quarter, down from $1.3 billion, or $2.43 a share, a year ago.
The Wall Street consensus for earnings in the second quarter was $1.19 a share, according to a survey by Thomson First Call.
John Devine, GM chief financial officer, acknowledged that the company's guidance in June that it was comfortable with an earnings prediction of $1.20 a share was overly cautious.
"Obviously, North America had some challenges on profitability, but profits elsewhere are encouraging," said Devine, noting strong results from Asia Pacific and, once again, from the company's financing business.
"As a result, we came in stronger in the second quarter," Devine said.
GM said last month its full-year profit target of $5 a share was uncertain because of questions about the economy.
Now, the automaker says it expects to earn 45 cents a share in the third quarter, in line with current Wall Street forecasts, and as much as $5 a share for the year.
"We think as the U.S. economy recovers this year, we'll get some further improvement in the industry," Devine said.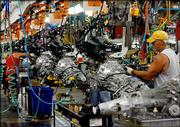 "We're now more optimistic than we were, say, at the end of the first quarter."
On the New York Stock Exchange, GM shares were down 18 cents to close at $35.74. GM stock has traded as high as $50.05 in the past year.
Merrill Lynch analyst John Casesa said GM has done a good job of managing its balance sheet.
"We believe deterioration in auto industry fundamentals will remain the primary factor constraining the stock's valuation," Casesa said.
GM's total revenue for the second quarter was $48.3 billion, essentially unchanged from a year ago.
Sharply lower volume year-to-year and continued pricing pressure eroded the company's overall financial performance.
Excluding GM's Hughes Electronics Corp. subsidiary, GM earned $879 million, or $1.57 a share. That's down from $1.5 billion, or $2.63 a share, in the year-ago quarter, when the company had a one-time expense of $55 million.
GM, like others in the industry, has seen profits decline because of costly consumer incentives used to spur sales.
"Overall, we had reasonable financial results in a challenging global economic environment," chairman and chief executive Rick Wagoner said in a statement. "These results clearly demonstrate the benefits of our global portfolio of businesses, ranging from our core automotive operations ... to vehicle financing and mortgage operations."
GM's global automotive operations dropped dramatically. Earnings fell to $140 million in the most recent quarter from $1.1 billion a year ago. Global production declined 6.6 percent in the second quarter.
In North America, GM earned $83 million, compared with $1.3 billion in the year-ago period. Through June, GM's U.S. auto sales were off 5 percent from a year ago.
GM's U.S. market share was 27.9 percent in the second quarter, down from 28.1 percent last year. But the second-quarter figure was up from 26.6 percent in the first quarter.
"We're working hard to improve financial results in North America," Wagoner said. "We're going to stay focused on the straightforward business strategy that's worked very well for us in recent times."
GMAC, GM's finance arm, earned $834 million -- its best-ever quarterly performance.
Hughes Electronics earned $22 million, compared with a loss of $156 million in the prior-year period, led by strong results from DirecTV.
For the first six months of the year, GM earned $2.4 billion, or $4.29 a share, compared with $1.5 billion, or $3.02 a share. The figures include Hughes and special items.
Total revenue for the first six months of 2003 was $97.7 billion, up from $94.6 billion a year ago.
Copyright 2018 The Associated Press. All rights reserved. This material may not be published, broadcast, rewritten or redistributed. We strive to uphold our values for every story published.