More than five years in the making, Kansas University's newest building will be dedicated with a gala three-day tribute to World War II veterans and one of their biggest advocates, former Sen. Bob Dole.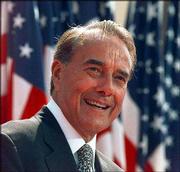 Dedication of the Dole Institute of Politics begins Saturday.
Billed as the "Greatest Generation's Greatest Celebration," events culminate Tuesday with the 80th birthday of Dole, the longtime U.S. senator from Kansas. Events include an air parade of World War II aircraft, a military encampment and vintage vehicle display, 1940s fashion show, re-created USO-style performance and an outdoor band concert, as well as the formal dedication.
A Memory Tent, featuring oral history presentations, will bring together veterans, including Marines who helped develop a secret code based on their Navajo language, World War II Medal of Honor recipients and members of the Tuskegee Airmen and Doolittle Raiders.
Dignitaries scheduled to appear include Dole and his wife, North Carolina Sen. Elizabeth Dole; former presidents Gerald Ford and Jimmy Carter; NBC anchor Tom Brokaw; former New York Mayor Rudy Giuliani and broadcaster Bill Kurtis. Former national candidates George McGovern and Jack Kemp also will attend.
With limestone walls, soaring stained-glass windows and a large reflecting pool reminiscent of Washington's Tidal Basin, the institute building already is a KU landmark. The $11 million, 28,000-square-foot facility will house state-of-the-art exhibits and the world's largest Congressional archive as well as meeting spaces and KU's first satellite uplink.
Richard Norton Smith, the prize-winning author and historian who is director, said the institute was a tribute to all Kansans who served the public's interest.
"Frank Carlson is here; Nancy Kassebaum is here; Alf Landon is here," Smith said in a recent interview. "The roles that women have played in Kansas politics is here. It's not just the Bob Dole story if they have the eyes to see."
Smith said it was intentional that the institute had the feel of a cathedral, with its openness and soaring stained-glass windows.
"This is a civic cathedral -- a cathedral of the civic religion. Service, not just patriotism. Service," he said.
The building will be open to the public from 5 p.m. to 8 p.m. Saturday; from 11 a.m. to 4:30 p.m. Sunday; and from 9 a.m. to 2 p.m. Monday. There also will be an all-night vigil maintained by WWII and other veterans from 11 p.m. Monday until 6 a.m. Tuesday.
Copyright 2018 The Lawrence Journal-World. All rights reserved. This material may not be published, broadcast, rewritten or redistributed. We strive to uphold our values for every story published.