MONROVIA, Liberia — As negotiators pushed back the deadline for a political settlement in Liberia, government officials Thursday accused the rebels of launching a fresh push on the beleaguered capital, swollen with refugees from previous fighting.
Sporadic explosions could be heard as a stream of refugees, some clutching rolled-up mattresses and balancing cooking pots on their heads, flowed across the bridge over the St. Paul River, which marks the outer border of the capital.
"As soon as we begin to put our lives together again, the fighting starts," said Issac Benson, 41, clutching a radio to try to hear news of the attacks. "We need the peacekeepers to come in quickly."
Benson said he was leaving his riverside village for the third time since fighting intensified in the last month and heading to the U.S. Embassy compound in Monrovia to seek protection. Embassy staff evacuated the compound after fighting broke out, and it now teems with more than 5,000 refugees living in makeshift bamboo and tarpaulin tents.
At a front-line military base known as Combat Camp, truckloads of young government fighters, wearing bandannas and flip-flops, arrived from the capital and were handed guns.
Soon after their arrival, mortar fire struck the base, said Liberia's military chief, Gen. Benjamin Yeaten. He said two government soldiers were seriously wounded.
The government has accused the rebels of launching a new push for the capital, a claim denied by the rebels who say they are only defending their positions.
Yeaten said government forces were attacked Wednesday afternoon at Klay Junction, some 20 miles north of Monrovia. By Thursday morning, the rebels had advanced to Sasstown, just 12 miles from the capital, he said.
Rebel officials countered that government forces attacked their positions Thursday.
The negotiators, working in Ghana to reach an agreement on an interim government that would facilitate the arrival of peacekeepers, had set Thursday as the deadline for a deal. But Gen. Abdulsalami Abubakar, the former Nigerian military ruler mediating the talks, extended the deadline to Tuesday.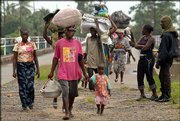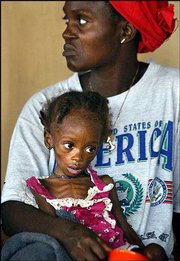 Copyright 2018 The Associated Press. All rights reserved. This material may not be published, broadcast, rewritten or redistributed. We strive to uphold our values for every story published.