Chicago — He was trusted, a true believer. He stood quietly in the background at rallies while his leader preached his gospel of "racial holy war." He was also an FBI informant.
Court documents reviewed recently by The Associated Press provide a glimpse into how the informant managed to infiltrate the inner circle of white supremacist Matthew Hale, secretly recording hundreds of conversations.
Prosecutors say the mole was so close to Hale that when they had a conversation about exterminating a "rat," both understood that meant the killing of a federal judge.
That conversation prompted authorities to arrest Hale, who is scheduled to go on trial Sept. 22 for soliciting the murder of Judge Joan Humphrey Lefkow of U.S. District Court in Chicago. The tapes are sure to play a crucial role if the case goes to trial.
Hale could be sentenced to up to 20 years if convicted.
Hale, 31, is the head of the group formerly known as the World Church of the Creator, a white supremacist organization with a history of violence.
The group was founded in 1973 by former Florida state lawmaker Ben Klassen and has had at most a few hundred members in about 22 states, experts say. Its doctrine of "racial holy war" is outlined in a book called "The White Man's Bible" that Klassen wrote before committing suicide in 1993.
One of Hale's youthful followers went on a three-day shooting rampage in July 1999, leaving two people dead and nine others wounded before the gunman, Benjamin Smith, killed himself. His victims were all minorities.
Prosecutors say when agents visited Hale afterward they were stunned when he told them he had suspected Smith all along. Asked why he had not told police, Hale said catching the gunman was their job -- not his.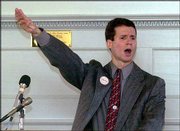 After the shooting spree, agents decided to plant a mole.
Prosecutors have not disclosed his name, explained how he won Hale's trust or said how they persuaded him to spy on Hale for 2 1/2 years, although they acknowledge paying him $50,000.
They do say the mole was constantly by Hale's side at rallies and was highly successful at working his way into his trust.
"The source eventually rose in the ranks of the group and became head of the White Berets, an elite group of members who served as bodyguards for the defendant," prosecutors say in court papers.
However, defense attorneys Thomas Anthony Durkin and Patrick W. Blegan say the mole tried to lure Hale into soliciting the murder of Lefkow but never succeeded.
"The only person who wanted to solicit murder here was the government informant," Durkin said. "This is a government-instigated case."
More of the story may be pieced together as defense attorneys listen to more than 100 tapes of conversations between Hale and the informant.
But the tape that could be key was recorded in December after Lefkow ruled that Hale would have to surrender the name World Church of the Creator because an Oregon-based religious group already had a trademark on it. Hale's group now calls itself the Creativity Movement.
Hale asked the mole to get the judge's home address. Then he e-mailed supporters saying "any action of any kind against those seeking to destroy our religious liberties is entirely up to each and every creator according to the dictates of his own conscience."
One day later the mole materialized in East Peoria and said he was in the process of getting the judge's home address.
"That information ... yes ... for educational purposes and for whatever reason you wish it to be," Hale says on tape.
"And when we get it, we gonna exterminate the rat?" the mole asks.
"Well, whatever you want to do, basically," Hale says. But he adds that he will "fight within the law."
"If you wish to do anything yourself, you can," Hale says.
"Consider it done," says the mole.
"Good," Hale says.
Copyright 2018 The Associated Press. All rights reserved. This material may not be published, broadcast, rewritten or redistributed. We strive to uphold our values for every story published.